(Running Sessions)
by Colin
Fellow Finescale Modellers,
As my current layout (Ewhurst Green) progresses there has been a significant number of running sessions thereon as friends from the East Sussex Finescale group bring their models to run. Some of these friends are still building their layouts; others want the opportunity to run full-length trains on somebody else's metals (i.e. mine). Indeed, unless stated otherwise all the locomotives and much of the rolling stock featured are visitors; even the 8-car Metro-Cammell Pullman set was a visitor having taken 'residence' between 2015 and 2019!
| | | | | |
| --- | --- | --- | --- | --- |
| <![if !vml]><![endif]> | <![if !vml]><![endif]> | <![if !vml]><![endif]> | <![if !vml]><![endif]> | <![if !vml]><![endif]> |
As it stands the longest bogie train has been eighteen, behind a Hornby 'Duke of Gloucester' visiting from the Algarve; the slowest locomotive a pre-WW1 Prussian 0-8-0 at eighteen minutes eight seconds for a complete circuit. This could probably be improved now more-modern controllers are employed.
With layout construction ongoing, the vantage points for photographs are currently somewhat limited (so apologies here). But these will increase with time – currently layout wiring is a priority. Only then can the trackwork be fully tested before more scenery can be added!
Typically, these running sessions start with an excellent lunch at 'our' nearby friendly beach-front café; which is just a very short distance away!
These running sessions are recorded here and it was anticipated that sessions from six months ago may have needed to be dropped off the list as time progresses. However, with a move to our dedicated domain www.EwhurstGreen.com this may not be necessary. A thank you must go to www.BloodandCustard.net for previously hosting these pages at no charge to Ewhurst Green and to the support from the East Sussex Finescale group.
'Two-days at Ewhurst Green' 6th & 7th December 2019
With attendance of an East Sussex Finescale (ESF) contingent from Portugal, two days were spent in the track room!
The 6th December was effectively a 'workshop-cum-social event' concentrating on the Southern Electric; in particular in-depth discussion on modifications to Hornby's 5 BEL units. However, the 7th December started with a road-trip to Morris Models enabling ESF members to collect models orders for a four-coach Crimson Lake ex.GWR 'B' set and a Malachite Green liveried ex.SECR Birdcage Set. Furthermore, historical author Mike King was signing copies of his latest book 'Southern Medley – The RC Riley Archive: Vol 3'.
Both days included luncheon looking out to sea from the warmth of 'our' local Beachfront café; this being particularly excellent with huge platefuls of Christmas-turkey lunches being served - nobody got beyond the second course!
First out onto the layout was a Hornby (ex.Lima) model of no.156 416 in 'One' livery. It still remains a rather nice credible model, although beneath the solebar the details are quite dated and it sadly suffers from Hornby's 'pizza-cutter' wheels (Ultrascale does make conversion wheelsets for many models).
A total of 114 Class 156 Super Sprinter sets were built between 1987 and 1989 for British Rail by Metro-Cammell's Washwood Heath works. Powered by 6-cylinder Cummins NT855-R5 diesel engines through Voith T211r hydraulic automatic transmissions and Gmeinder final drive units, the class 156 units have a top speed of 75 mph.
Having been drafted away from East Anglia, in early 2005 the class 156 units returned when train operator 'One' received nine from Central Trains in exchange for a similar number of class 150 units. The 'One' class 156 units were used on the Bittern Line (Norwich to Sheringham via Cromer), Wherry Lines (Norwich to Great Yarmouth /Lowestoft), East Suffolk Line (Ipswich to Lowestoft /Felixstowe) and the Sudbury Branch Line (Marks Tey to Sudbury) along with services between Ipswich to Cambridge and Peterborough. All nine units passed to Abellio Greater Anglia when it took over the Greater Anglia franchise in February 2012.
<![if !vml]>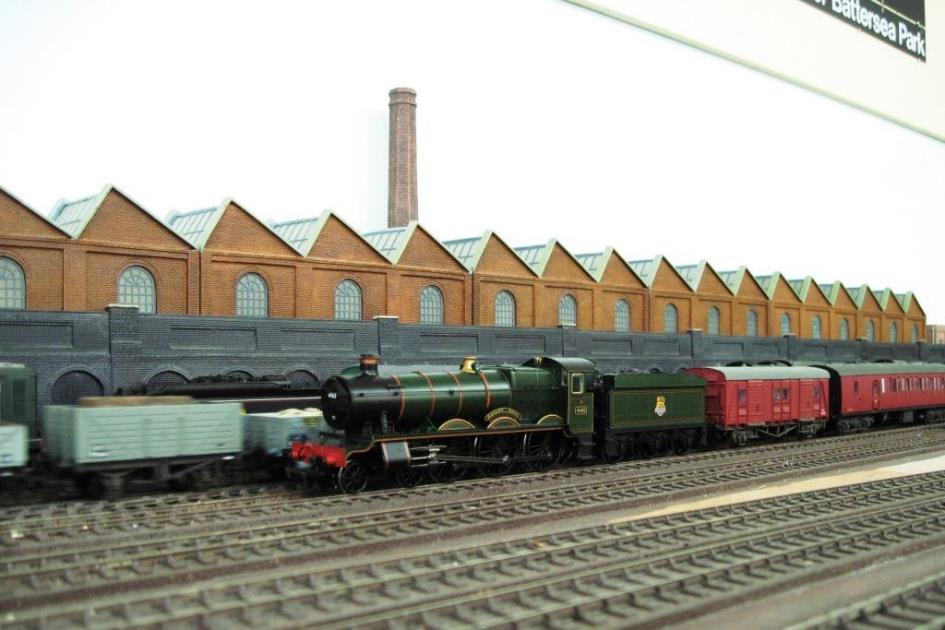 <![endif]>
On the Down Line Schools 'V' class no.30901 'Winchester' heads a train of Bulleid 64' stock including set 865. Unfortunately, despite having previously visited Ewhurst Green this locomotive kept derailing on the single-slip in the photograph. So, the locomotive's wheelset back-to-back dimensions were adjusted (those on the tender were found to be too tight). However, the occasional derailment was still taking place, leading to the locomotive being temporarily removed for further investigation – but more of this later…
<![if !vml]>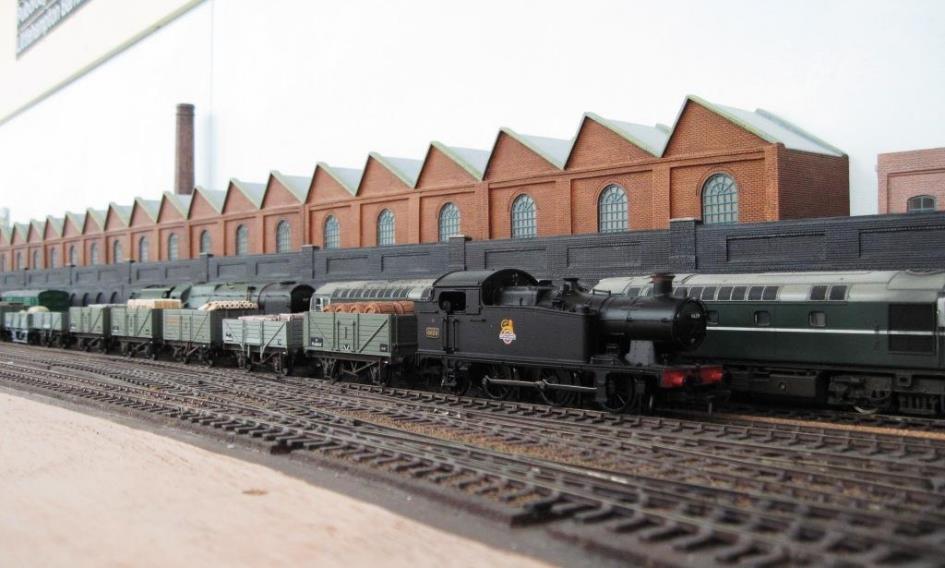 <![endif]>
In Central Trains livery, two-car class 158-unit no.158 782 running on the Up Line. The footbridge sits in its intended position; a gated level crossing will be at the feet of its steps with a signal box in the middle of the picture (this side of the tracks).
A total of 182 class 158 Express Sprinter units were built for British Rail between 1989 and 1992 by British Rail Engineering Limited (BREL) at its Derby Litchurch Lane Works. Just seventeen units were built as three-cars; the remainder being two-car.
The Class 158 Express Sprinter Units replaces Class 156 SuperSprinter units on long-distance 'East Midlands' express services such as Liverpool Lime Street to Norwich via Nottingham. With privatisation, Central Trains (2nd March 1997 to 11th November 2007) operated these services, transferring the Class 158 fleet to secondary routes such as Birmingham New Street to Hereford and Derby to Matlock (in favour of Class 170 units).
The class 158 units were variously powered by Cummins 350hp, Perkins 350hp or Cummins 400hp engines with Voith T211rz or T211rzz hydraulic
Gmeinder GM 190 final drive units to the two inner-axles on each power car, yielding a maximum speed of 90 mph.
<![if !vml]>
<![endif]>
On a Down stopping service BR standard 3MT tank no.82029 hauls a five-car formation of two non-corridor seconds and non-corridor 3-car set no.152 (these coaches being Replica models). Entering into service at Darlington in December 1954, no.82029 locomotive moved to the Southern (Guildford) in September 1963 by when it had received a later style of crest. After reallocation to Bournemouth (January 1964) it ended its day at Nine Elms (September 1964 to 9th July 1967) before being scrapped at Birds yard (at Risca in Caerphilly County Borough) between November 1967 and January 1968.
<![if !vml]>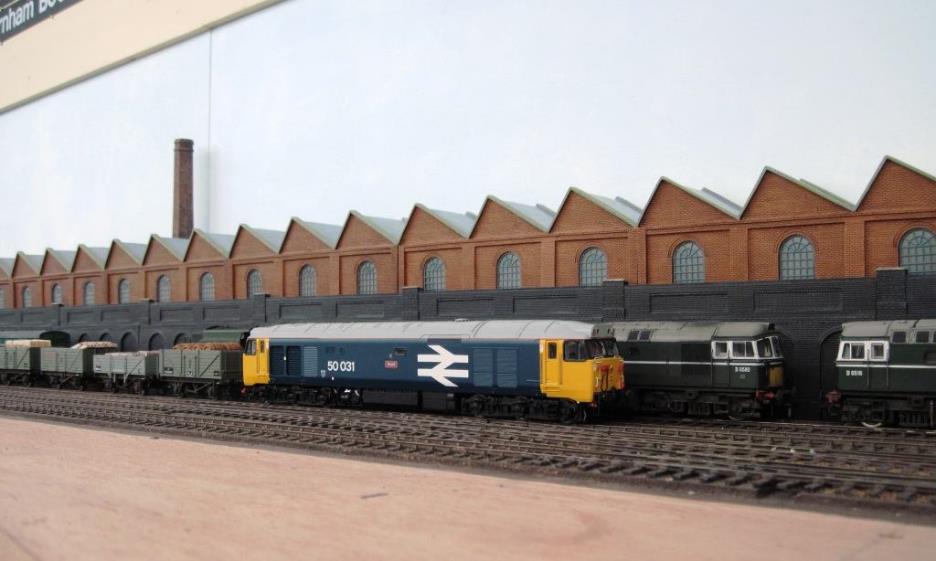 <![endif]>
Ex.BR class 47 locomotive no.47 500 'Great Western' on the Up Line hauling resident visitor late-crest Pullman set. Entering service 22nd June 1966 as D1943 (green yellow warning panels livery) the locomotive was renumbered no.47 500 in March 1974 whilst it was based at Landore (Swansea). It moved to Bristol Bath Road in 15th May 1988.
On 27th February 1979 it was named 'Great Western' without ceremony at Old Oak Common; the nameplates originally accompanied by square transfer GWR decals. However, these were replaced with circular cast metal badges on 20th April 1979. On 20th May 1985 the original alloy nameplates replaced with GWR-style brass plates on as part of the Western Region's GWR 150th anniversary celebrations.  The nameplates were removed in September 1991 and eventually applied to no.47 815.
On the Down Line running had been temporarily halted as adjustments to the single-slip are made; these adjustments being interrupted by trains still running on the Up Line.
<![if !vml]>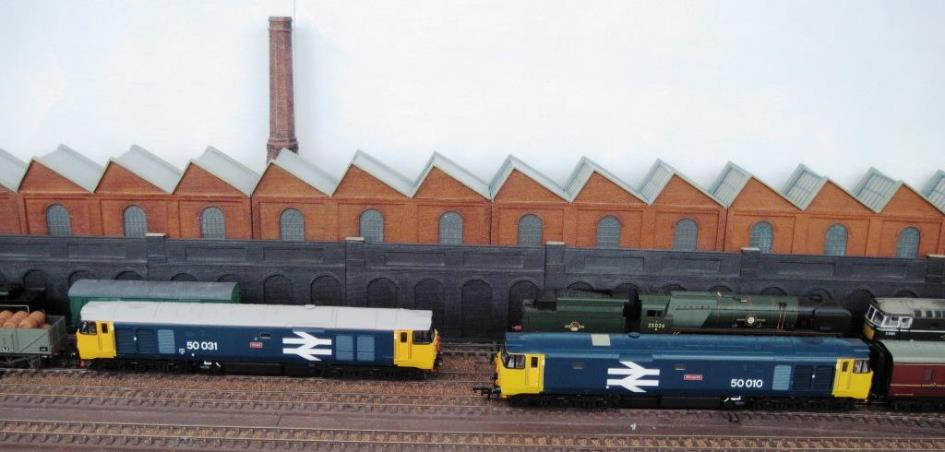 <![endif]>
Having undergone a partial strip-down and rechecking of the wheelsets, it was concluded that there was excess lateral sideplay on each axle and the locomotive to tender drawbar needed adjustment. However, neither of these were the primary cause of the derailments, although the number of incidents were halved. So the investigation turned to the single-slip where slight adjustments were needed; afterwards the locomotive ran faultlessly. Essentially slightly out-of-adjustment wheelsets suffering excessive lateral free-play were being 'exploited' by an out-of-adjustment single slip.
<![if !vml]>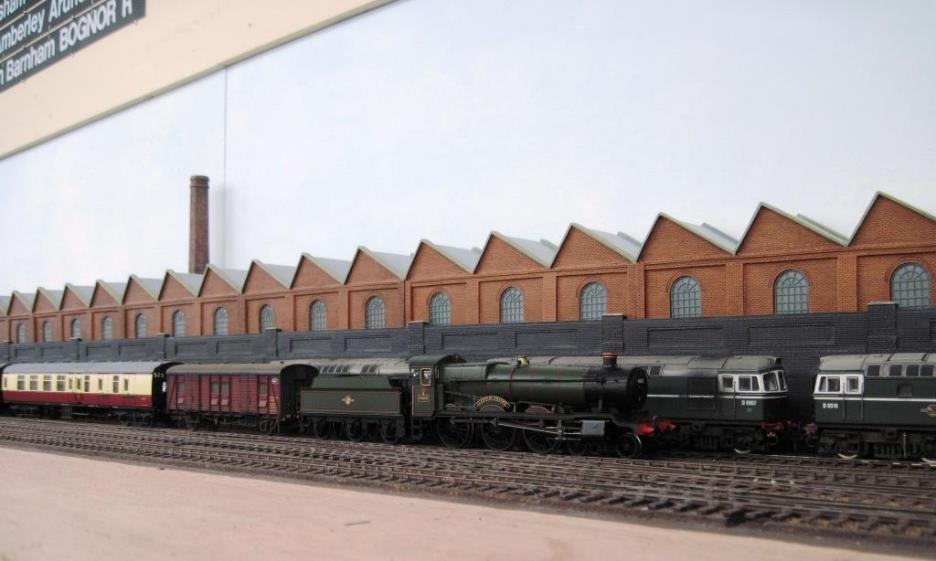 <![endif]>
With a suburban train rattling past on the Down Line, Ewhurst Green's rebuilt Merchant Navy class no.35020 'Lamport & Holt Line' leads a passenger train on the Up Line; the first vehicles of which being covered carriage tracks (CCT). Ewhurst Green has a number of Merchant Navy class locomotives although their use on this route to the coast would in reality have been somewhat limited.
<![if !vml]>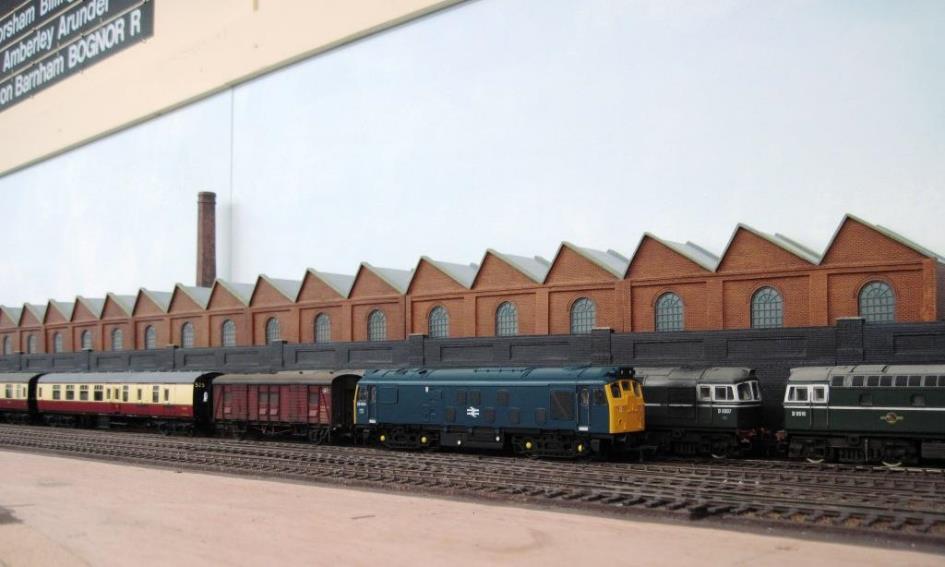 <![endif]>
'Southern Eclectic' 23rd November 2019
By no stretch of the imagination can ESF take credit for the title of today's running session, for that belongs with Colin Duff and the name of his wonderful Southern Electric layout he built (now sadly dismantled when moving home). However, it just seemed appropriate for the day which start with a members' train ride /visit to Eastbourne station and its lovely independent coffee bar!
This was all a precursor to early arrivals in the track-room before setting of the short distance to the seafront, lunch and a discussion about the afternoon running session around the scale mile-long track. Indeed, it was such a busy session I missed getting photographs of two 5 BEL units; on in Pullman Umber & Cream, the other in BR Blue & Grey, an original all-Blue 4 TC, a 2 NOL unit and stock that didn't get unpacked being both MLV and 4 CEP units in Green and all-Blue liveries let alone 'Hampshire' and 'Hastings' 2H DEMUS!
<![if !vml]>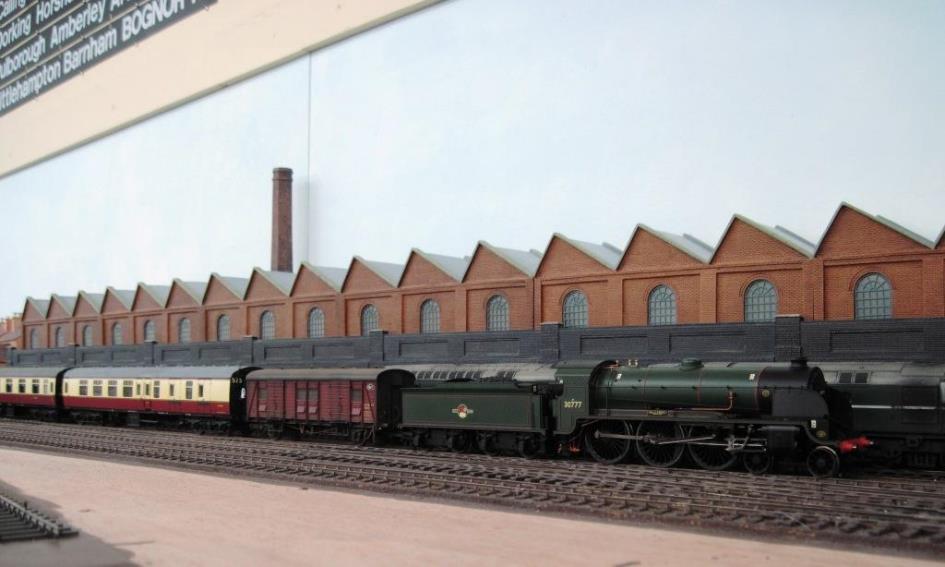 <![endif]>
Oldest unit photographed on the layout was augmented 4 SUB unit no.4428 running on the Down line; this being one of two on the layout and the only 'non-visitor' running during the afternoon' session. On the Up line visiting 2 HAL unit number 2603 trailed the rear of an eight-car mix of 2 BIL /2 HAL units. Unit no.4428 appeared as an augmented between May 1947 and April 1956. Unit no.2603 appeared in this livery (green /full yellow end) between 4th July 1967 and 28th February 1970 when it received BR blue livery prior to withdrawal 12th June 1971.
<![if !vml]>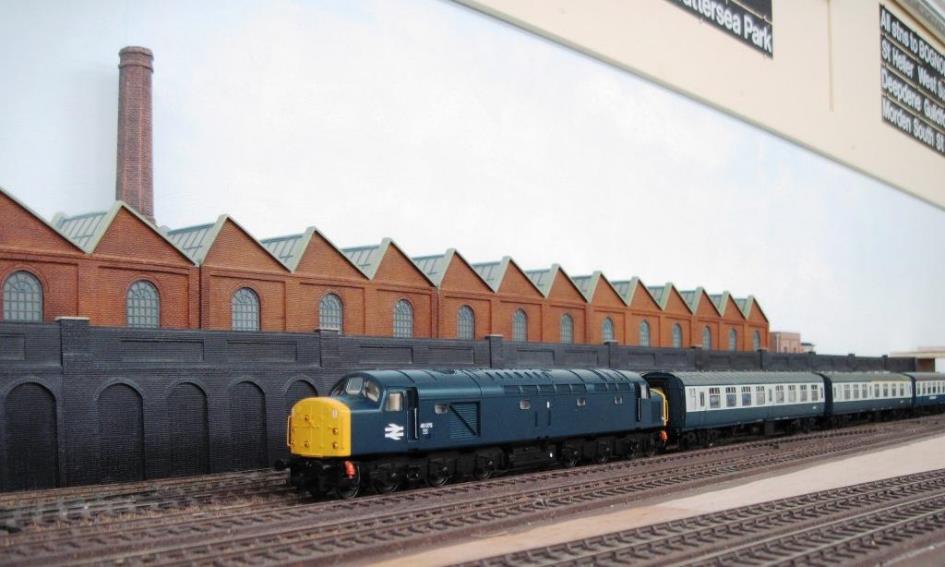 <![endif]>
Leading the eight-car mix of 2 BIL /2 HAL units was Blue-liveried 2 BIL unit no.2086 (it received this livery by February 1970 and was withdrawn 12th June 1971). The other two Blue units within this mix were 2 HAL no.2623 and 2 HAL no.2677. With Green-liveried  2 HAL no.2603 at the rear this visiting formation has taken up temporary residence on the layout!
<![if !vml]>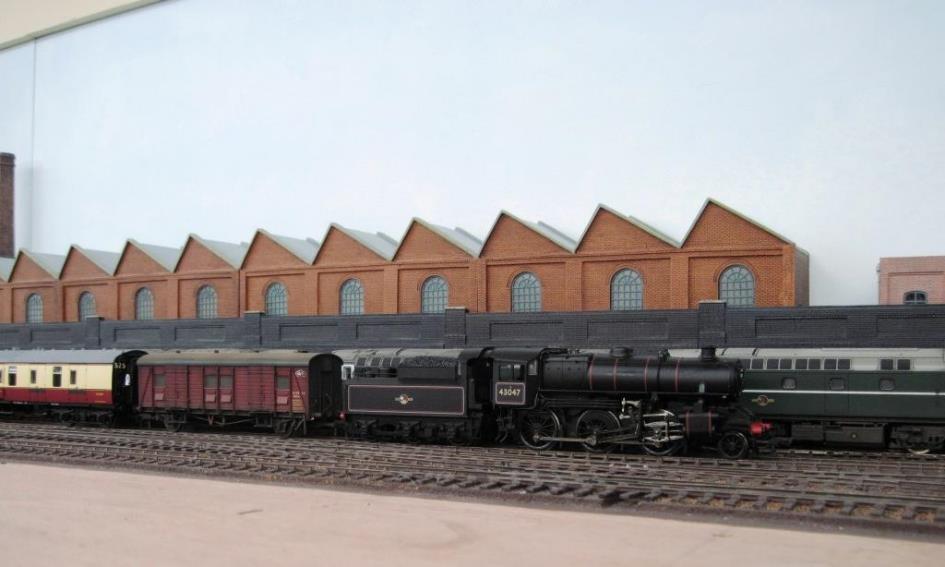 <![endif]>
With model boxes being opened the first non-resident visiting units started to appear. From Green livery, 2 EPB unit no.5764 was painted Blue with small yellow panels 19th July 1966, receiving full yellow ends 25th July 1969 thence Blue /Grey livery in February 1984 (before renumbering to 6264 circa October 1984). Painted on to two and three-car units, the inverted black triangle indicates there is no brake van at the other end of the unit.
<![if !vml]>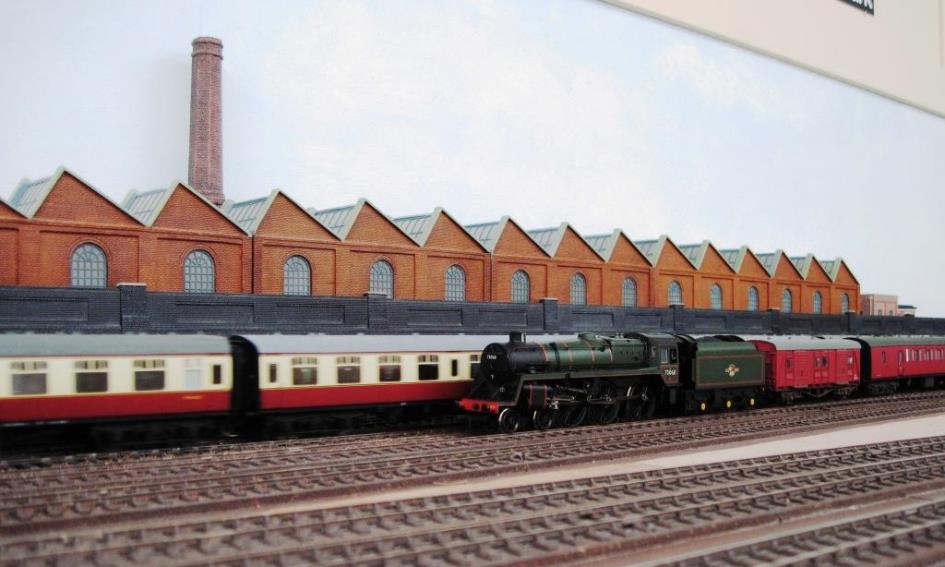 <![endif]>
4 CEP unit no.7113 went straight from Green to Blue /Grey on 30th September 1968 and was renumbered as 1524 on 10th October 1980. On 16th July 1996 its TSO (no.70262) went to St. Leonards West Marina depot and now (in green livery) is once again on the mainline being used within preserved Hastings DEMU unit no.201001 alongside a 4 CIG buffet car. The 4 CEP units were rebuilt by BR; one set is now being returned to original condition at Eastleigh works.
<![if !vml]>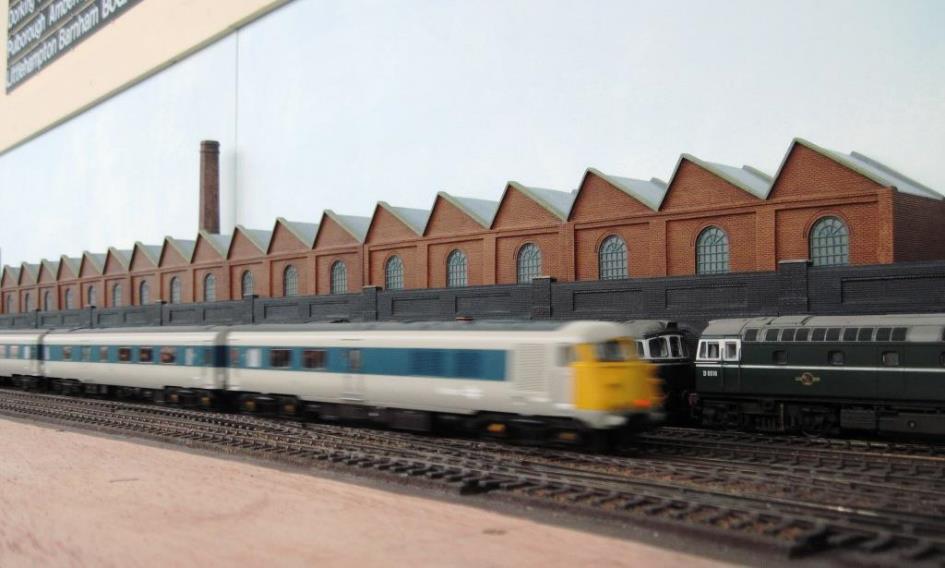 <![endif]>
Following delivery on 18th August 1972, 4 VEP unit 7830 entered traffic 26th August 1972 in Blue /Grey livery, AWS was fitted in 1977 and the unit was renumbered no.3130 July 1987. There were no significant incidents or issues recorded during this time, which means not a lot else can be said – a typical 4 VEP that undertook sterling service. Whilst many bemoaned the 3+2 seating in second class, the first-class compartments were quite comfortable (having travelled many miles therein including from Ramsgate to Weymouth and back in one round trip; outward via London; return was non-stop!). Sadly the model does have a number of shortcomings; the pizza-cutter wheels being a particular issue on Ewhurst Green's finescale track.
<![if !vml]>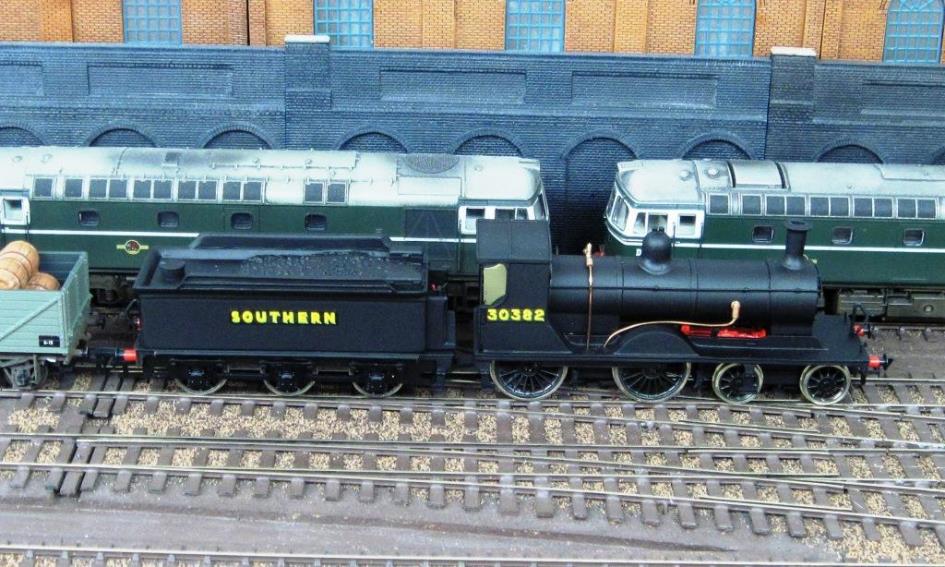 <![endif]>
MLV no.68009 leads an unidentified 4 CEP on the Down line. Outshopped 14th March 1961, no.68009 rain in this livery from 10th March 1970 to July 1986 when it received London & South East Sector livery (two-tone brown /orange) also known as 'Jaffa Cake' livery. It survives today in preservation.
<![if !vml]>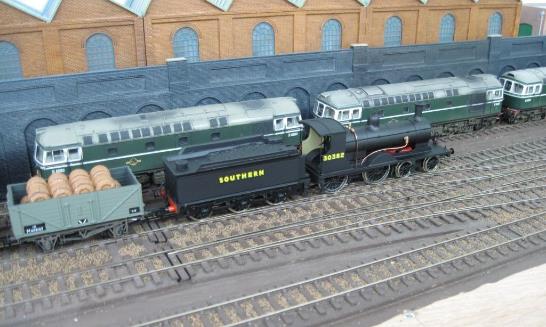 <![endif]>
Into service as no.5738, 2 EPB (BR-design) was renumbered in April 1985 as unit no.6238 having received Blue /Grey livery in December 1982. The model's DTS carries the red cantrail band above the compartments; these being introduced following the 23rd March 1988 murder of a female passenger in a compartment between Brixton and Victoria. However, the compartments in unit no.6238 had already been opened-out to a saloon at Slade Green during April 1984 (as an experiment) so no.6238 would not have probably not carried these red bands. This modification left the DTS as two saloons seating 94; the MBS as one saloon seating 82. The unit was withdrawn 30th Sep 1991 and used as de-icer pilot.
<![if !vml]>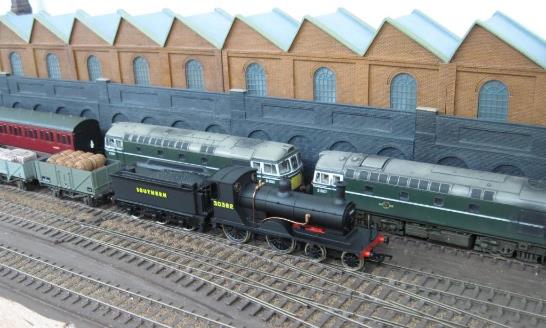 <![endif]>
Finally, in quietly setting up a photograph of 4 VEP no.7830, a thirteen-car 'Boat Train' (complete with MLV) caught me unawares as it hurtled past on the Down Line. I suspect it was 68009 (the only blue /grey version produced by Bachmann so far) but as some of our group members are into re-numbering I would not like to say for sure.
What is promised for a future session is a fourteen-car 'Boat Train' comprising Green or all-Blue MLV, Maroon TLV and three 4 CEP units in Green, Blue and Blue /Grey liveries!
'Autumn Hat-Trick!' 9th November 2019
Following the 23rd October and 2nd November running sessions, attendees had conspired to aim for a 'hat-trick' in terms of the running session format; this time with Scottish and Southern themes although in reality the two locomotives carrying Scottish names spent their working lives on the Eastern Region. Obviously, this all followed a hearty lunch in 'our' busy beach-front café!
Certainly, there was a whiff of conspiracy in terms of the selection of locomotives and running order, although locomotives were selected around the latest class 37 release and a visiting Mk1 blue /grey set. Ultimately running days are both sociable and fun for East Sussex Finescale group members!
<![if !vml]>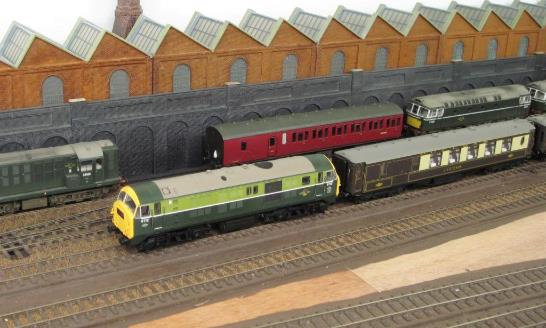 <![endif]>
On the Down Line early-crest BR standard 4 no.76053 is in charge of a stopping train, comprising resident mixed non-corridor and corridor stock. In terms of mainline operation, Mk1 non-corridor stock was regularly used on peak-hour Basingstoke – Waterloo services. Built at Doncaster works, no.76053 was allocated new to Redhill (75B) in April 1955 it moved to Salisbury (72B) in May 1960 thence to Guildford, Feltham, Eastleigh and back to Guildford and withdrawal in January 1967. Scrapped same year at Cashmore's yard (Newport), its short working life was just 11 years 9 months.
<![if !vml]>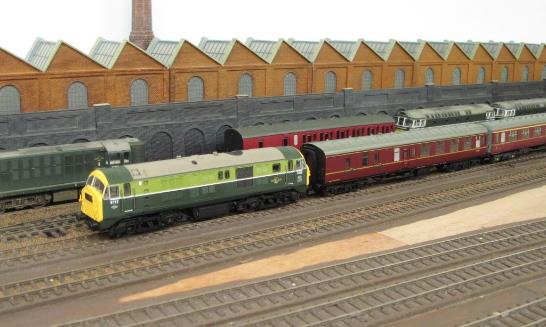 <![endif]>
On the Up Line large logo no.37 114 'Dunrobin Castle' hauls a visiting six-car blue /grey liveried Mk1 train; these have just been equipped with Kadee™ No.20 buckeye couplers within the formation. This class 37/4 model locomotive issued a year ago by the Mickelover Model Railway Group as number 180 of 512. Into service February 1963 as D6814 it was renumbered 37 114 in January 1973 and allocated to March the following year (from where it was withdrawn in December 2017 after a working life of 44 years 10 months).
<![if !vml]>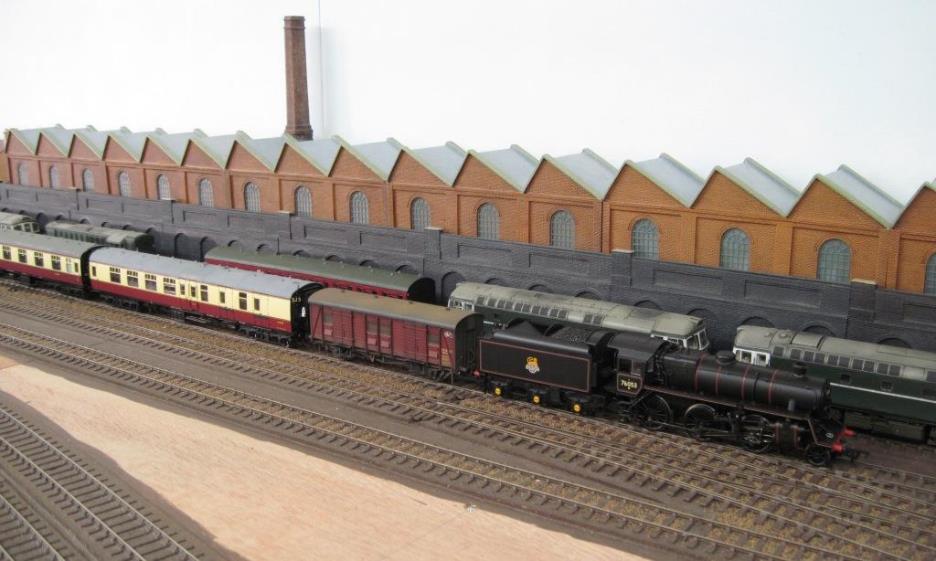 <![endif]>
The subtle change to another visiting early-crest BR standard (a class 5 no.73109) was fairly quickly noticed although the replacement Bulleid coaches (led by set no.865) did assist in making this switch more apparent. Built at Doncaster works, no.73109 was allocated new to Eastfield shed (65A) in January 1956 and was withdrawn from there in October 1964. Scrapped the following year at Motherwell Machinery & Scrap (Wishaw) its short working life was just 8 years 9 months.
<![if !vml]>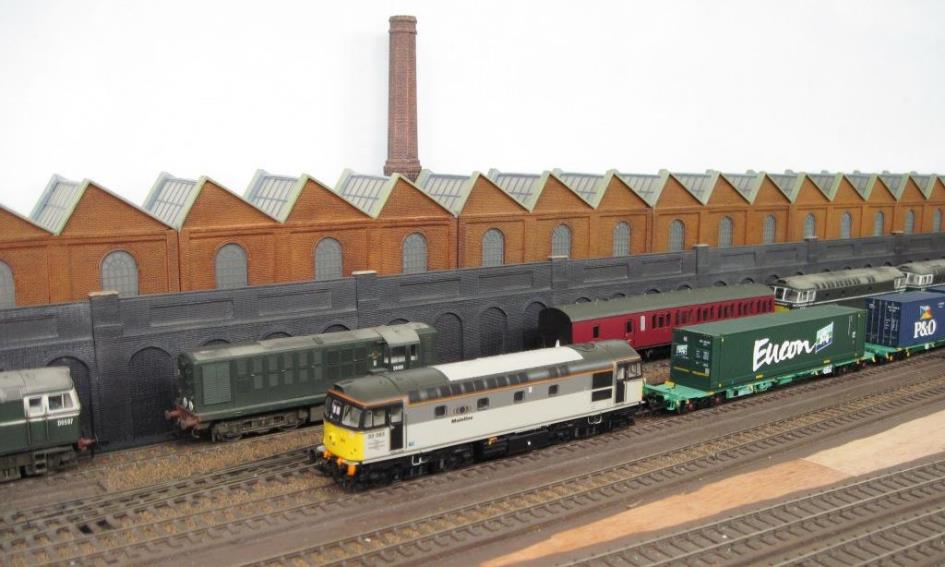 <![endif]>
On the Up Line no.37 026 'Loch Awe' took over the blue /grey liveried Mk1 train. Recently released as a weathered model, this class 37/0 model locomotive was number 063 of 512, again issued by the Mickelover Model Railway Group. This particular model was DCC sound-fitted with much functionality still available on Ewhurst Green's DC controllers. Into service September 1961 as D6726, it was renumbered 37 026 in January 1973 having been allocated to March since April 1966 (from where it was withdrawn in January 1999 after a working life of 37 years 4 months).
<![if !vml]>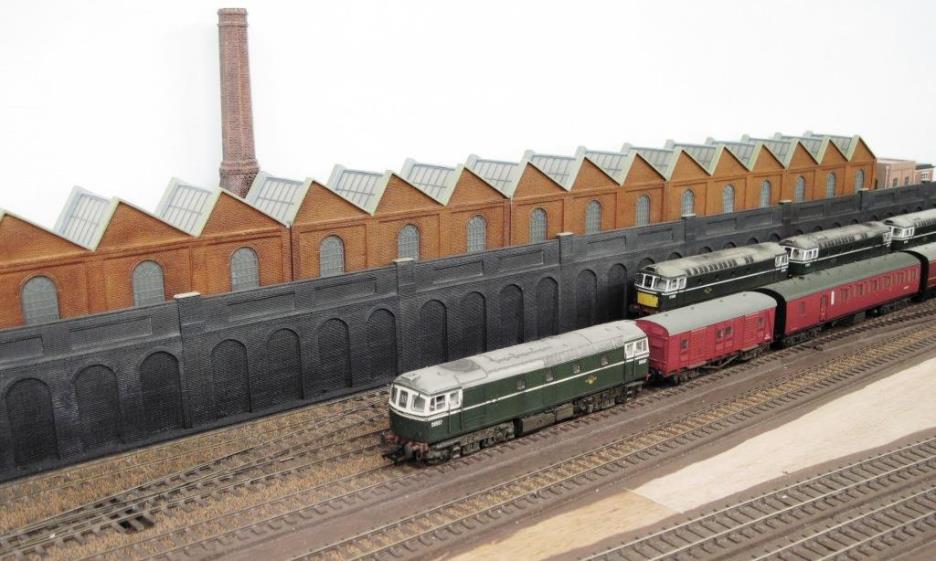 <![endif]>
The 'green' train towards the running session end was augmented 4 SUB no.4428 rattling past on the Down Line; this being a recent acquisition for Ewhurst Green (to compliment another ex.LSWR augmented 4 SUB unit on the layout, no.4424). Augmented in May 1947, unit 4428 was withdrawn 14th April 1956 with the underframes of the wooden bodied cars reused under new builds of SR-design 4 EPB units (nos.5257 & 5258). The augmentation trailer went into SR-design 4 EPB unit no.5230.
As a layout, Ewhurst Green will be at the end of the Southern Electric's suburban services (typically formed of NOL, SUB and EPB stock) with 2 BIL /2 HAL /4 COR and 4 CEP stock operating services through to the coast and Portsmouth Harbour.
'Trend-setting?' 2nd November 2019
In a bid to confuse, the 23rd October running session comprised two not-dissimilar tank engines, two near-identical class 37 locomotives and a green '07' shunter. It was therefore quite amusing to have that format repeated during 23rd October's running session.
Obviously, this all started in a favourite beach-front café against a vista of high winds, rain lashing against the café windows and an impressively storm sea.
<![if !vml]>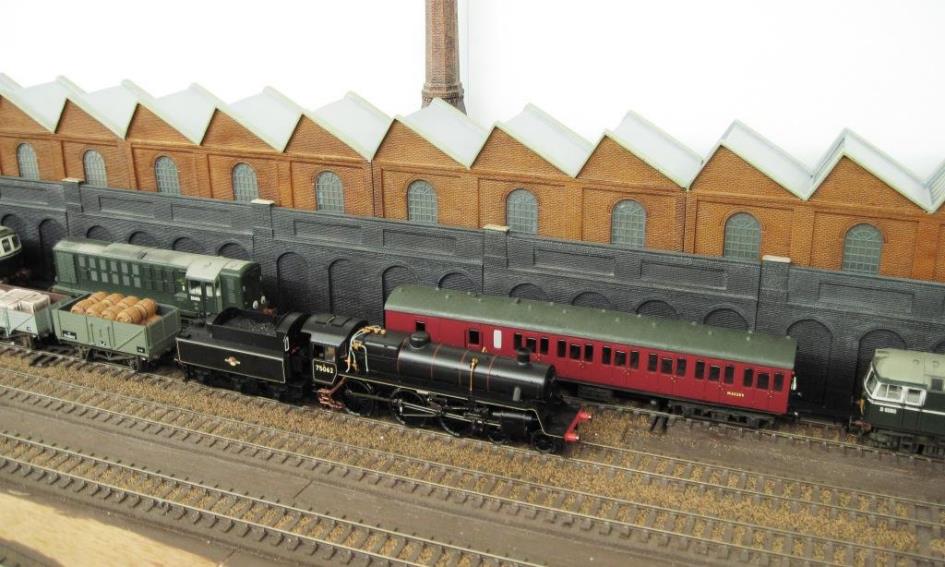 <![endif]>
Starting off the session was rebuilt Merchant Navy class no.35011 'General Steam Navigation' hauling the visiting late-crest Pullman train. Rebuilt in July 1957 the locomotive carries post-1962 red-ground nameplates running as it appeared right up to withdrawal in 1967.
The General Steam Navigation Company (GSNC) was incorporated in 1824 and specialised in links with ports in Britain and northwest Europe although did operate some services to Spain, Portugal, Gibraltar, Africa and the Americas. In 1920 P&O Steam Navigation bought a controlling stake in GSNC but retained its identity. In 1936 GSNC it purchased the New Medway Steam Packet Company. However, in the nineteen-sixties much GSNC's business disappeared and in 1972 it became wholly owned by P&O in 1972, ceasing to be an independent company.
<![if !vml]>
<![endif]>
On the Down Line original 'Peak' no.44 008 'Penyghent' hauls a fitted van train. Based at Toton yard, the real locomotive was withdrawn twenty-nine years ago this month but has fortunately survived in private ownership (currently) at Peak Rail, Matlock in Derbyshire.
The locomotive was named after Penyghent, a fell in the Yorkshire Dales. At 2,277 feet it is the smallest of the Three Peaks, the other two being Ingleborough (2,372ft) and Whernside (2,415ft) after which locomotives nos.44 007 (D7) and 44 006 (D6) were respectively named.
<![if !vml]>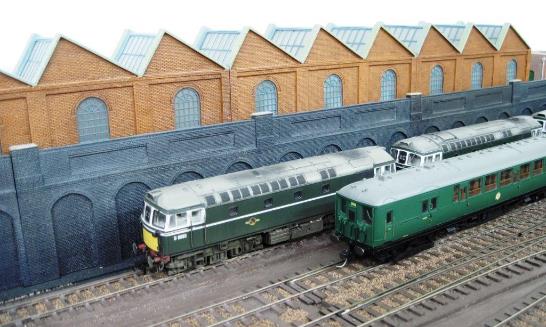 <![endif]>
During the running session there was a quiet locomotive change for Merchant Navy class no.35021 'New Zealand Line' hauling the visiting late-crest Pullman train. Rebuilt in June 1958 the locomotive carries post-1962 red-ground nameplates running as it appeared right up to withdrawal in 1965. However, not everyone was fooled for the electrification warning flash at the base of the smoke deflectors; an interesting addition as no.35021 did not appear to carry these in BR service and Hornby's R2300 release (in the Bournemouth Belle set) was not equipped.
<![if !vml]>
<![endif]>
The second 1Co-Co1 of the day was 40 075 which although had been quietly added to the train embarrassed itself with a noisy drivetrain. However, after some careful lubrication and a wheel-clean normality was restored. Originally numbered D200-D399, two-hundred of this class were built by English Electric between 1958 and 1962. The last working of 40 075 was on 1st December 1981 on the 21.00hrs Newcastle - London King's Cross when it failed at Durham.
<![if !vml]>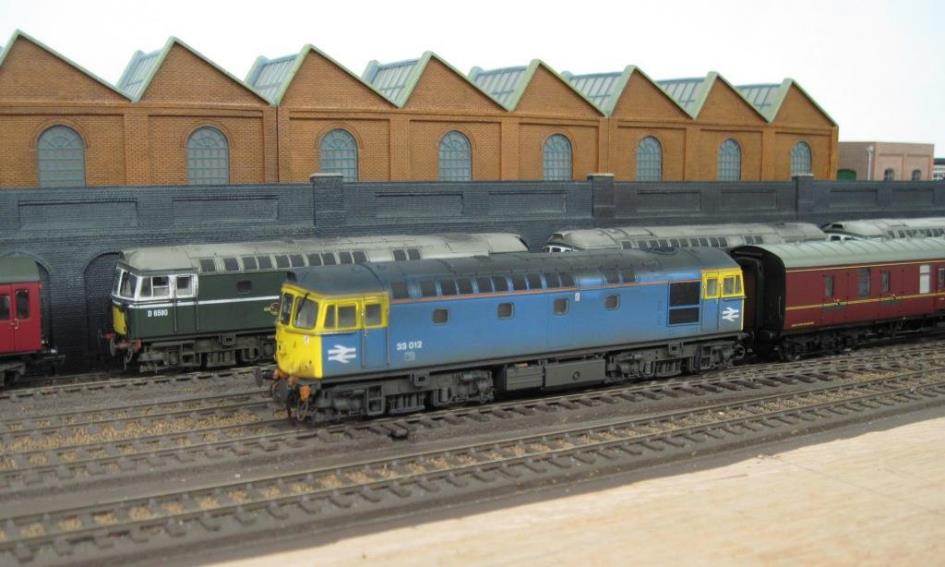 <![endif]>
The 'green odd-man out' came in the form of 'Super Sprinter' railcar no.153 333 in Central Trains livery. Owned by National Express Ltd, Central Trains operated both local and inter-regional trains between 2nd March 1997 to 11th November 2007 (some twelve years ago this month) with its fleet including twenty-one of the class 153 units. Since 14th October 2018 unit 153 333 is one of thirteen class 153 units used on the Wales & Borders franchise operated by Keolis/Amey Wales Cymru Limited under the Transport for Wales Rail Services (Gwasanaethau Rheilffyrdd Trafnidiaeth Cymru) trading name.
Originally built by Leyland in 198788 as two-car class 155 units, no.153 333 was one of thirty-five converted into seventy single-car units in the period 1990-1992 with the installation of a second cab; being significantly smaller than the original cab the cramped conditions of the second cab remain unpopular amongst train crews.
'Mid-week Crisis' 23rd October 2019
One of the benefits of the East Sussex Finescale group is local spontaneity!
A decision to visit a forthcoming distant model railway exhibition complicated next Saturday's proposed arrangements. However, with a keen interest in still holding a running session, some of us were able to meet on a Wednesday evening instead; albeit at short-notice and with a little devilment thrown in!
<![if !vml]>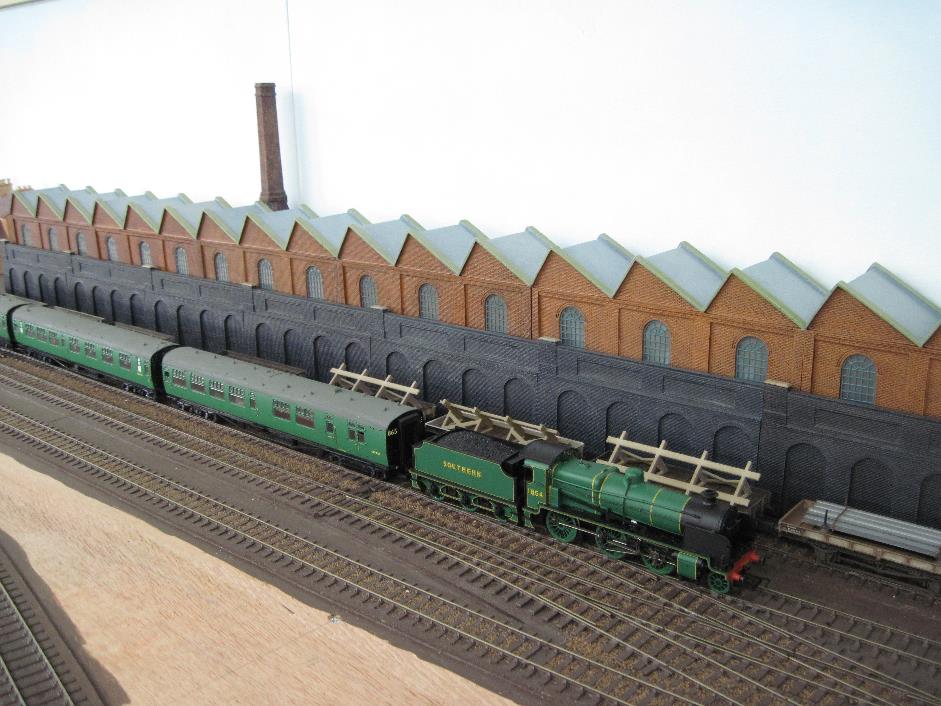 <![endif]>
On the Down Line Adams Radial tank no.30582 took charge of seven bogies (crimson-lake non-corridor stock) which this '1P' locomotive handled with complete ease. Construction of William Adam's design commenced in 1882. However, no.31582 (as it became) was built in 1885 by Robert Stephenson & Co. and incorporated slightly larger side water tanks and deeper firebox when compared to the original design. It was withdrawn for scrapping in 1961.
<![if !vml]>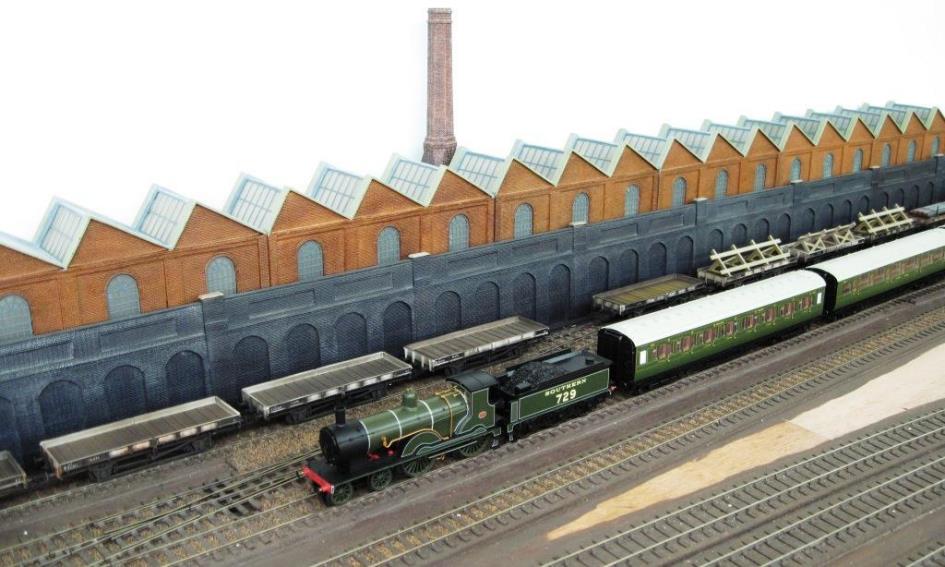 <![endif]>
On the Up Line Loadhaul-liveried 37 884 'Gartcosh' took charge of the visiting intermodal stock. The nameplates commemorated the Lanarkshire steelworks, having been transferred onto the locomotive in 1992; the steelworks having closed in March 1986.
<![if !vml]>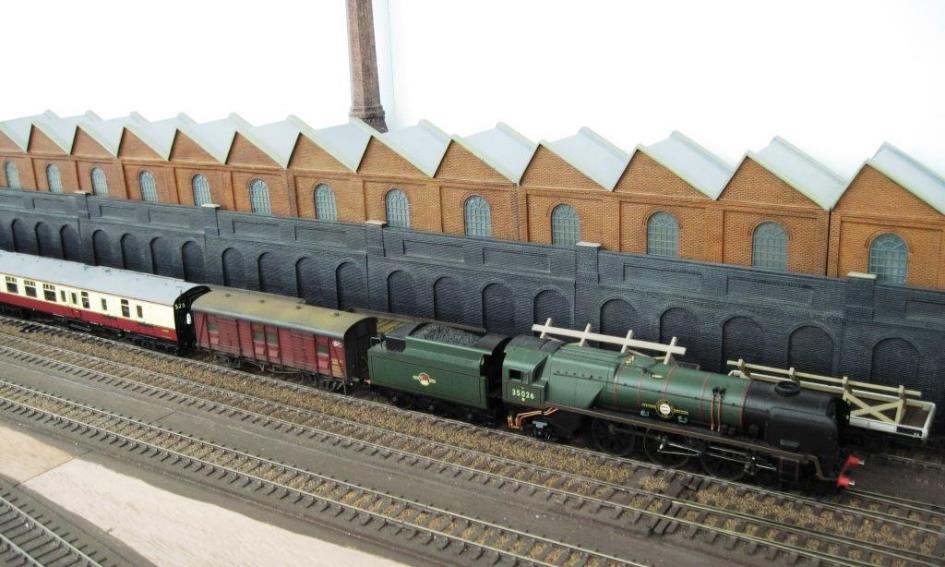 <![endif]>
A quick and subtle change of tank engine didn't go un-noticed for ex.SECR 'H'-tank no.31265 could only cope with four of the suburban coaches (1P-rated). Built between 1904 and 1909 (plus an additional two in 1915) the H-class tank engines saw extensive use in Pull-Push 'rail-motor' trains. With the Kent Coast electrification scheme no.31265 was withdrawn in 1960.
<![if !vml]>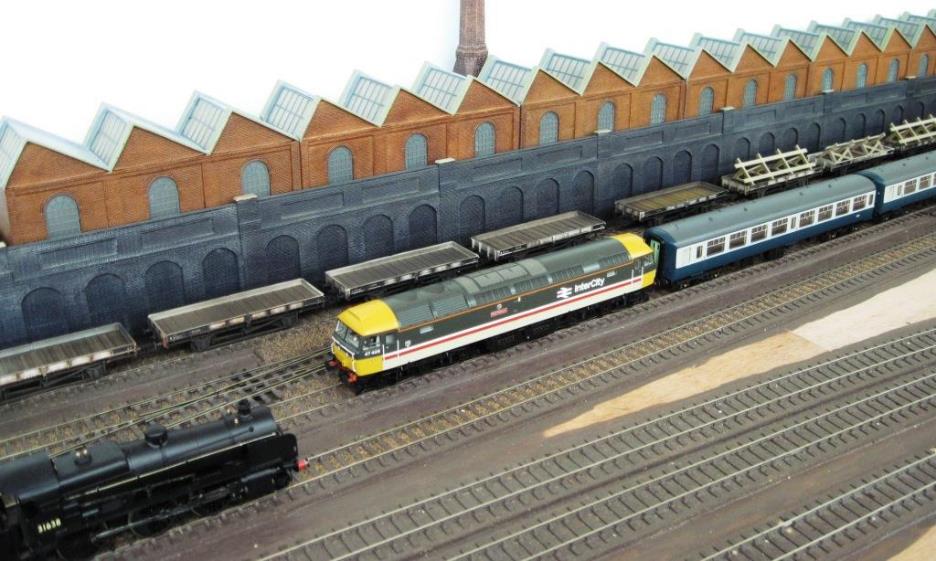 <![endif]>
However, a change to Loadhaul-liveried no.37 713 wasn't immediately apparent. This locomotive and its livery were unveiled to the public at the July 1994 Doncaster Works open day. Incorporated on 9th July 1994, the name 'Loadhaul Limited' was adopted on 21st July 1994 by Trainload Freight North East Limited in readiness for privatisation.
<![if !vml]>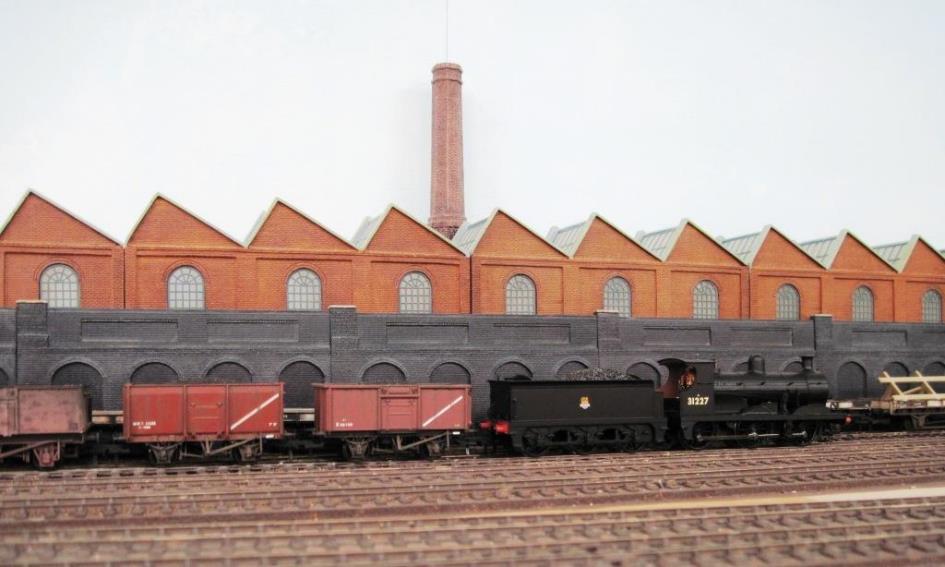 <![endif]>
TOPS class 07 Eastleigh works shunter no.D2991 as it appeared in its unique light green livery. Fourteen of these off-centre cab diesel-electric shunters were built by Ruston & Hornsby (D2991 in 21st July 1962) for the Southern Region and were primarily used in Southampton Docks. Subsequently no.D2991 moved to Eastleigh works acquiring this livery. Although it was allocated TOPS number 07 007, it did not carry this for many years. Now mainline-registered, D2991 remains at Eastleigh works today in blue livery as 07 007. The locomotive is hauling weathered model double bolster /plate wagons (and loads) procured from The Model Centre in Yorkshire.
<![if !vml]>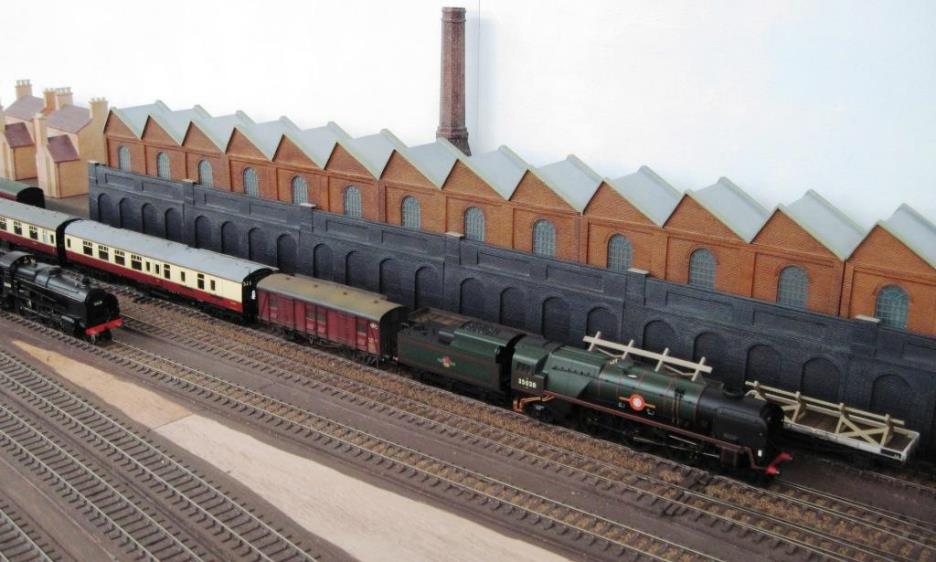 <![endif]>
For those who hadn't noticed the earlier locomotive switch, the double heading of nos.37 884 and 37 713 gave the game away much to the entertainment of their owner! Just seven class 37 locomotives received Loadhaul livery and this pair were a Rail Excusive special dating back to March 2011. These locomotives were allocated to Thornaby and Immingham depots.
'Return to Running' 4th October 2019
With much going on during September there was a break in the running sessions although members still met for luncheon. October's first session was unusually held on a Friday to coincide with a ESF member's return from the Netherlands. Even on a weekday the beachfront café was still busy!
<![if !vml]>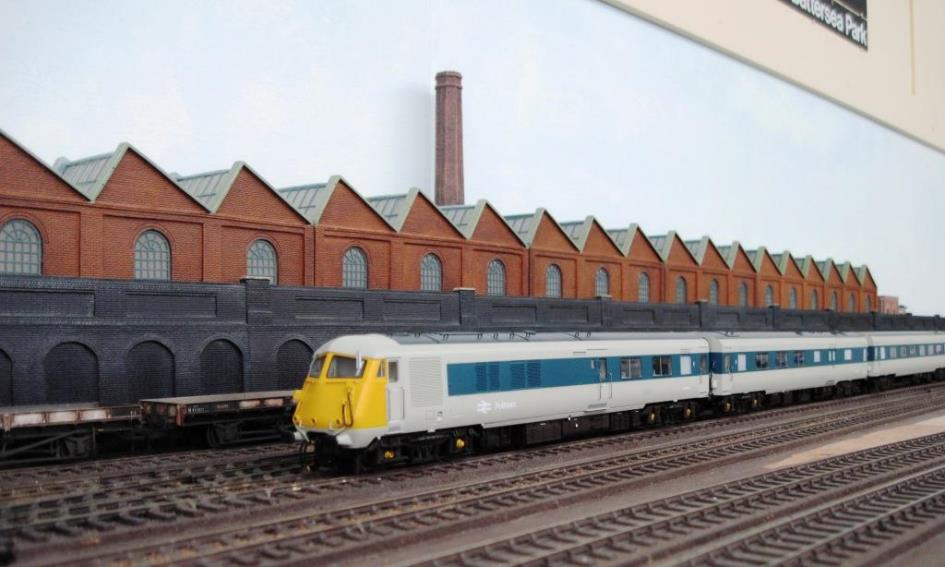 <![endif]>
First on the scene was Brighton 'H2' Atlantic no.32424 'Beachy Head' hauling a five-car Pullman train; itself a long-term visitor to the layout. These Atlantics are superb models and it is hoped future number-variants will emerge. No.32424 was withdrawn in April 1958 and by the following month its scrapping was well under way at Eastleigh Works. 
Whilst none of the 'H2' Brighton Atlantics were preserved, a project to build a new one is well underway at the Bluebell Railway. Following the success of the 4mm model Bachmann provided a donation to the project.
<![if !vml]>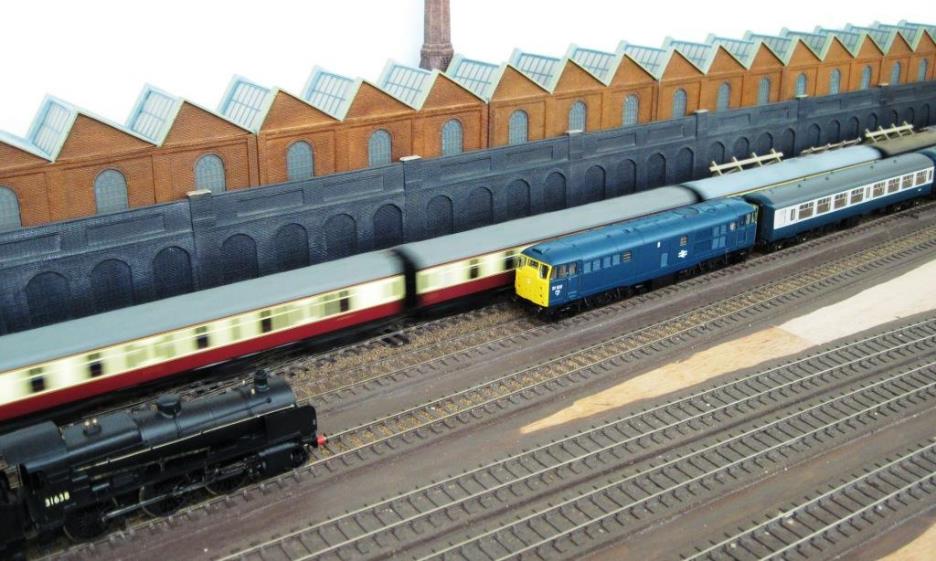 <![endif]>
On the Up Main no.47 813 in Direct Rail Services livery was hauling the visiting intermodal set. It is understood the model was a limited edition from Model Rail.
Entering traffic on 6th March 1964 as D1720 it was renumbered no.47 129 (February 1974), no.47 658 (August 1986) and finally no.47 813 on August 1989. Whilst number 47 813 it successively carried the names 'S.S. Great Britain' (March 1998), 'John Peel' (8th October 2005 by his widow – plates removed August 2009), 'Solent' (September 2012) and 'Jack Frost' (18th February 2019). However, at the time of this running session the locomotive appears to be in store under Rail Operations Group ownership.
<![if !vml]>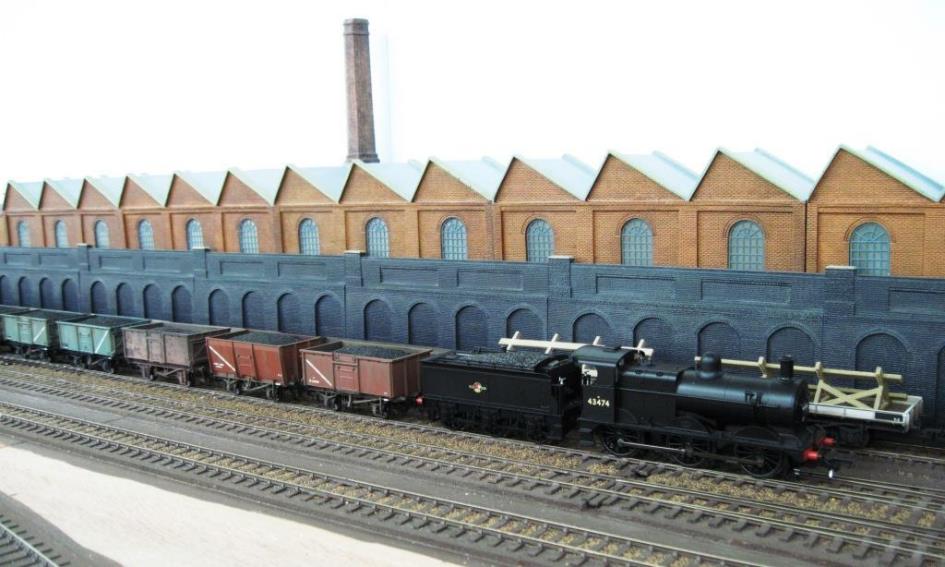 <![endif]>
<![if !vml]>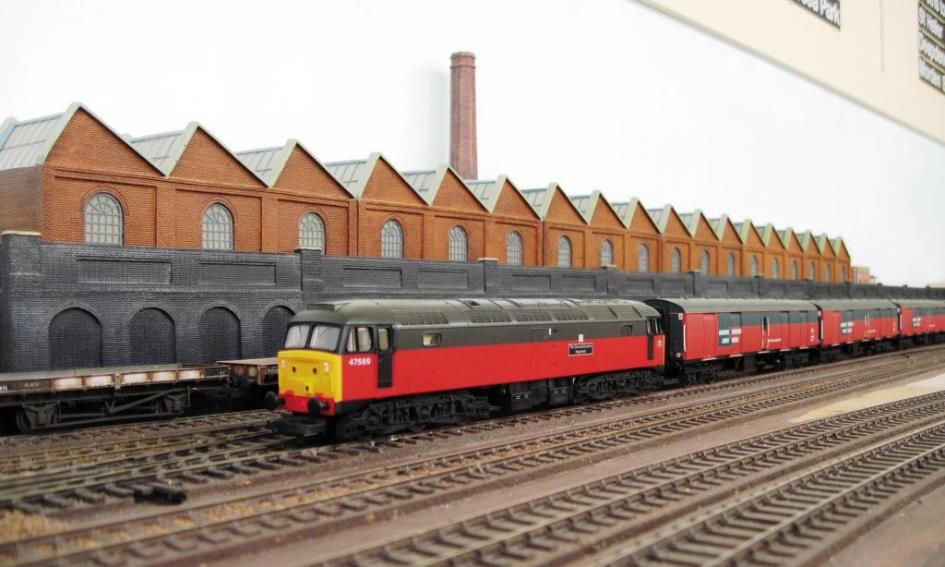 <![endif]>
Just to demonstrate these are running sessions are not just a series to staged photographs, travelling at speed DB Schenker no.37 670 interrupted a photograph of no.32424. Entering service on 28th October 1963 as D6882, it became 37 128 under TOPS (1st January 1973) before renumbering to 37 670 in 1986.
Names 'St. Blazey T&RS Depot' no.37 670's use with DB Schenker was all too brief. Due to their excellent route availability DB Schenker used class 37 locomotives for railhead treatment trains. However, once clearance for class 66 /67 locomotives was gained there was minimal need for these. With significant engine-reliability problems no.37670 was stored unserviceable and in summer 2010, DB Schenker Rail UK ceased using class 37 locomotives altogether.
<![if !vml]>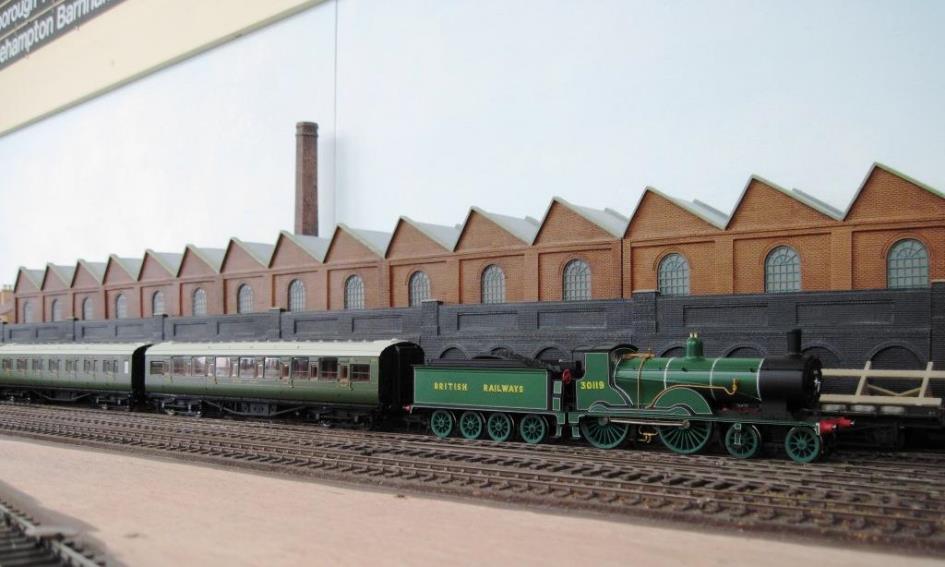 <![endif]>
Pull-push equipped M7 no.30o51 hauling a faded crimson lake non-corridor set the Down Main. No.30051 is in the livery it appears between October 1952 and November 1958 while based at 70D shed (Basingstoke). The coaches are Graham Farish having been flush-glazed, painted and casrt roof ventilators added over thirty-years ago; a period when there were few choices.
<![if !vml]>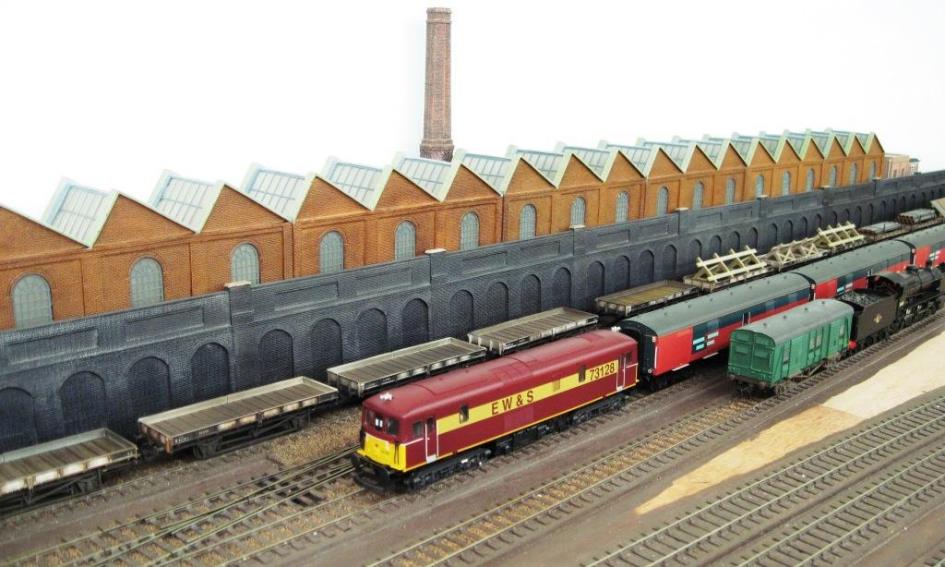 <![endif]>
Towards the end of the session it was time to give one of my trains a turn. Southern Region allocated D5000 hauling BR(S) 64' suburban coaches.  Following its arrival on the region, D5000 was initially used for crew training around Faversham, Ramsgate, Dover and Ashford.  However, in the early hours 10th November 1959 no.D5000 lost control of a coal train (from Snowdown Colliery) at Faversham running through a sand drag, demolished the buffer stops with the derailed D5000 left fouling the main line and disrupting the morning rush hour.  D5000 was re-railed by late afternoon and all lines reopened that evening.
<![if !vml]>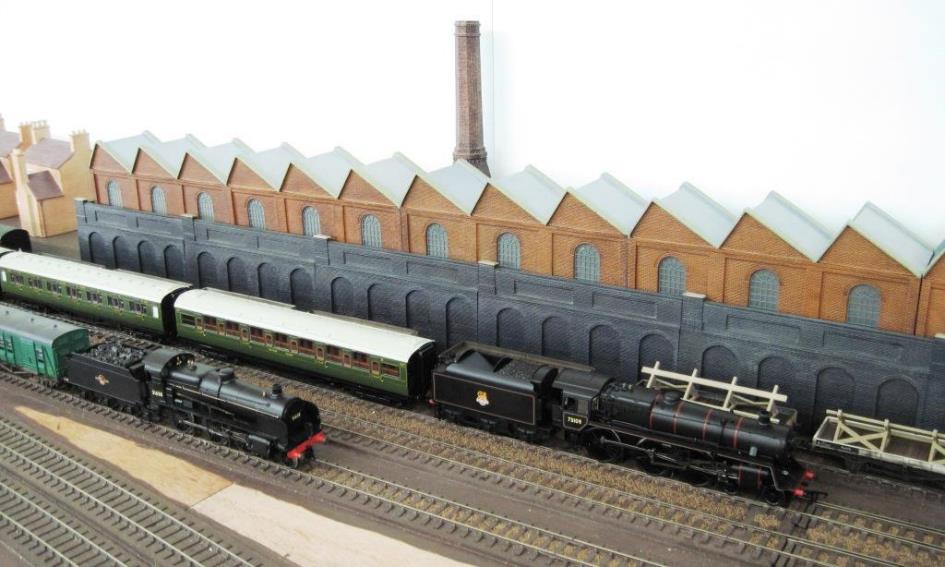 <![endif]>
Rebuilt Merchant Navy class 35026 'Lamport & Holt Line' (as it ran somewhere between November 1962 and March 1965) hauling a short train of five 'late crest' Pullman cars on the Up Line. Whilst the Pullman cars were visitors the Merchant Navy locomotive was not. Apparently, this Hornby model isn't particularly common.
'Bank Holiday Weekend' Running 24th August 2019
With significant sections of the national rail network closed due to engineering works Ewhurst Green was going to see a running session!  Given the sunshine and many seaside visitors, our local beachfront café remained comfortable. However, following the usual hearty lunch the aircon in the trackroom was most welcome.
<![if !vml]>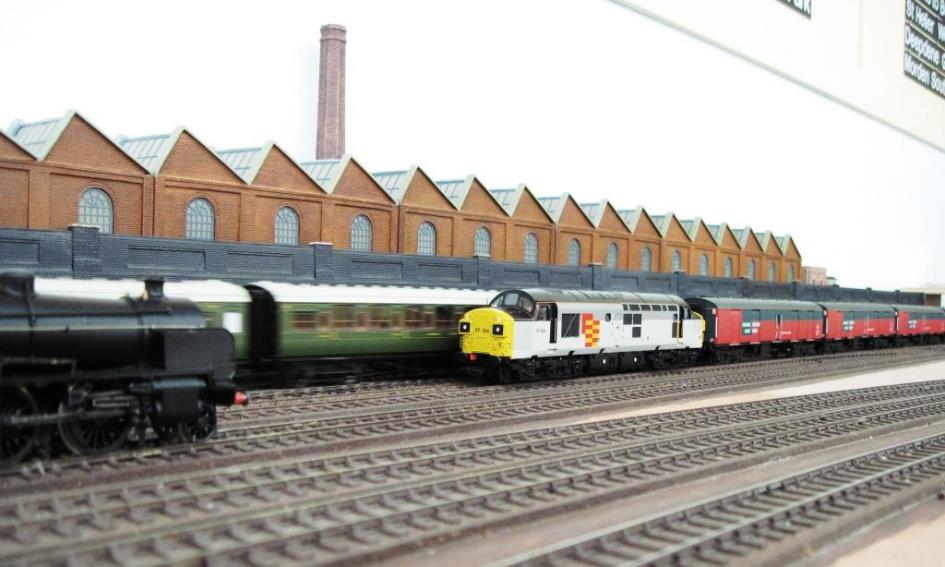 <![endif]>
As stock boxes were being opened, Ewhurst Green's D8400 (class 16 under TOPS) brought the van train around from the fiddle yard. These locomotives did venture onto Southern metals including one superb photograph of a passenger excursion traversing Balcombe viaduct!
<![if !vml]>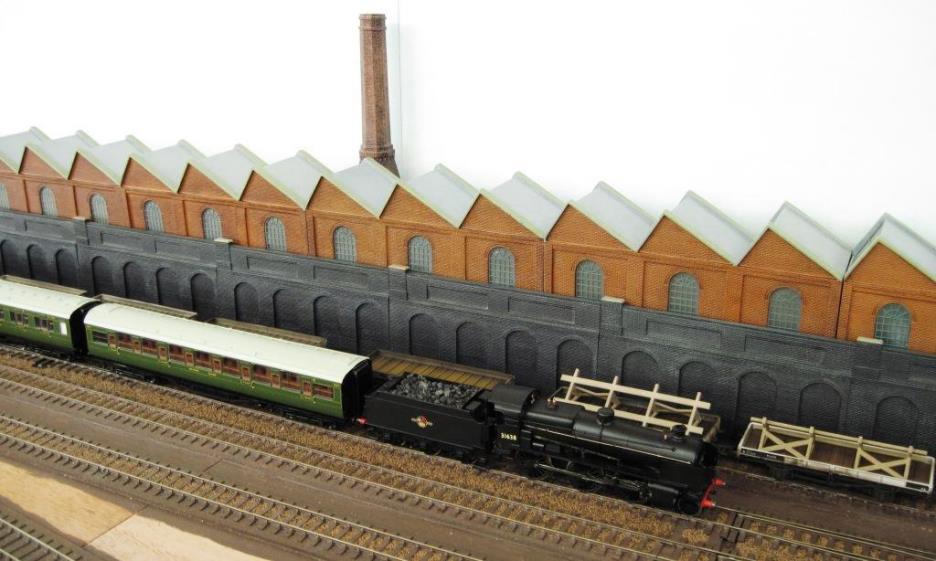 <![endif]>
Merchant Navy number 35012 'United States Lines' arrived the previous week and remained on the layout in order to have its wheel's back-to-back dimensions set following a couple of derailments. The locomotive's driving wheels were fine; the tender wheels rather tight and the pony truck a combination of wide to gauge /tight to gauge. However, now these are correctly set the locomotive now runs smoothly.
<![if !vml]>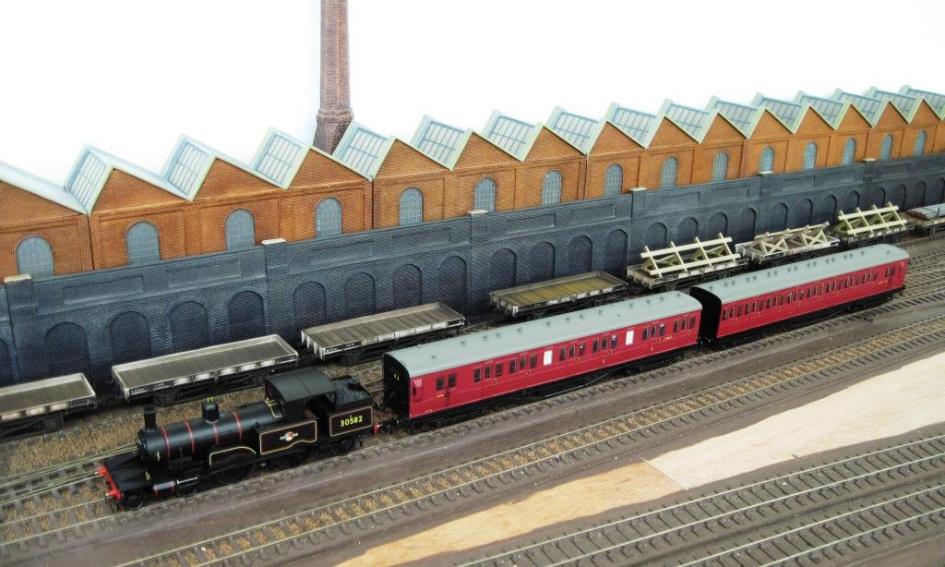 <![endif]>
This was probably the first visit of a TOPS class 17 to the layout and it certainly turned out to be a memorable one!
Purchased just a few days ago by an East Sussex Finescale member D6534 sounded dreadful when put on the track. Louder than a Lima pancake motor, the decision was made to investigate as the locomotive did run smoothly albeit nosily. 
Dismantling a Heljan TOPS class 17
The instructions for dismantling could be much improved although gave a reasonable indication as to what to do; essentially remove one set of buffers, release four bodyside clips (from underneath) and drop the underframe unit out.
There is a tiny collar on the inner-end of the buffer shank which prises off (do not loose these) before the buffer and its spring drops out. Once the two buffers are removed the underframe can be eased out enabling the horizontal bearings to be lubricated. However, with the body clipped back on replacing the buffers is tricky and best undertaken with the bogie sideframes removed (these just pull off).
At this point the inadequacy of the instructions became obvious for what isn't mentioned is the collar has a small flat on its cylinder; the collar has to be rested on this flat before it can be slid over the buffer's shank-end. Too late as a collar went ping….
Not visible on the bench, the first step is to carefully brush down clothing onto the clean timber floor of the trackroom. This includes slippers with their removal lest anything has dropped inside (as has happened in the past). Once being trapped in clothing has been reasonably eliminated, time to step away from the area and start searching the floor and open box under no.2 workbench. It was down in this box that the errant collar was found – phew!
Except a buffer spring was now missing at this couldn't be located. Given these have to be removed to fit DCC chips into these models the inclusion of spares collars /springs seem incredible – saving on tuppenny ha-penny parts that are so integral to the model! 
Fortunately, I found the spare springs included with Kadee™ buckeye couplers to be a direct replacement!
<![if !vml]>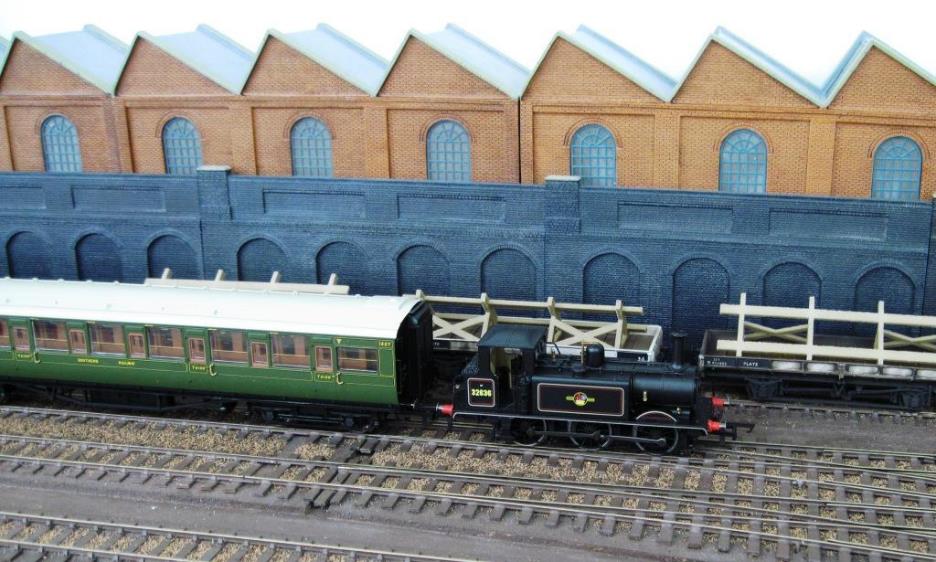 <![endif]>
Meanwhile, back on the track and Battle of Britain 34067 'Tangmere' had taken charge of the Pullman train. At this point an eagle-eyed member had observed it was not just the PMV that had changed during the week for the Pullman formation also differed. Not much slips past East Sussex Finescale group members! (Although car numbers aren't easily read online the differing cars can be observed).
Founded in 1917, RAF Tangmere was a Royal Air Force station located in Tangmere, West Sussex. A key Battle of Britain airfield, Wing Commander Douglas Robert Steuart Bader (1910-1982) and (the then inexperienced) James Edgar 'Johnnie' Johnson (1915-2001) were stationed there. Post-war, RAF High Speed Flight was based at Tangmere and in September 1946 a world air speed record of 616 mph (991 km/h) was set by Group Captain Edward 'Teddy' Mortlock Donaldson (1912-1992) in a Gloster Meteor.
By 1964 the last flying units had left Tangmere although the station continued to be used for several years (including Prince Charles's first flying lesson in 1968). Final closure came on 16th October 1970 with a single Spitfire flying over the airfield as the RAF ensign descended for the last time. The majority of the airfield is now farmland although the derelict control tower is now a grade II listed building. Tangmere Military Aviation Museum is also located on part of the site.
<![if !vml]>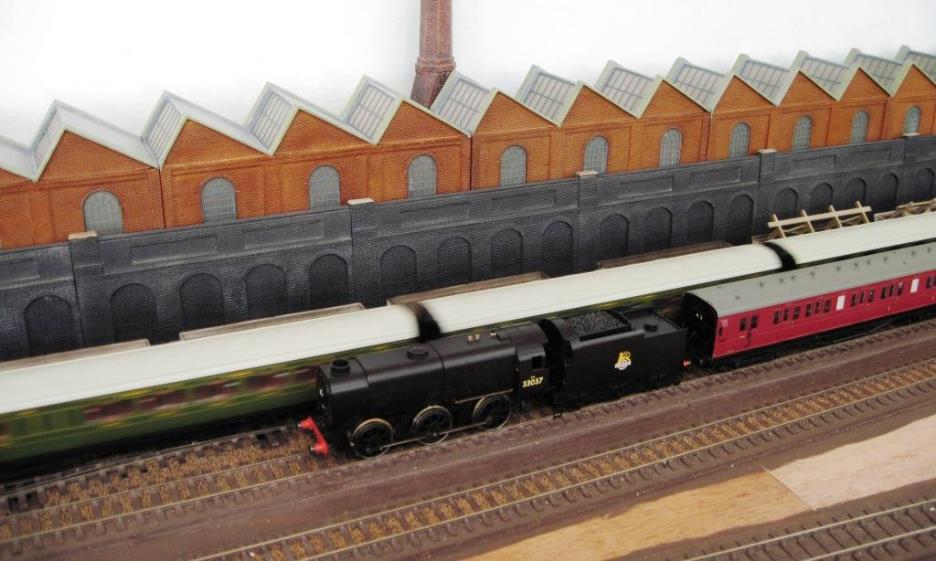 <![endif]>
47 617 'University of Stirling' was one of two large-logo TOPS class 47 locomotives visiting Ewhurst Green this day, except so much times was expended on D6534 the opportunity to photograph the other class 47 was nearly missed.
Originally outshopped as D1742 on 29th May 1964 before renumber to 47 149 (February 1974), 47 617 (July 1984) and finally 47 677 (July 1991). On 17th September 1984 it was named 'University of Stirling' at Stirling station by Sir Kenneth Alexander, Principal of the University; the university Coat of Arms being fitted above nameplates. This name was originally planned for 47 614. The nameplates were retained when the locomotive was reclassified as 47/6 and renumbered 47 677 on 8th July 1991 (they were removed during April 1996).
As D1742 the locomotive entered service in two-tone green with yellow warning panels thence (as 47 149) in BR blue with the large logo /grey roof appearing as 47 617. Intercity 'swallow' livery was next which it kept as 47 677. Upon renumbering to 47 617 the locomotive has been allocated to Eastfield depot before moving to Inverness during May 1987 thence back to Eastfield in October 1988 before entering the Intercity 'pool' in December 1990.
<![if !vml]>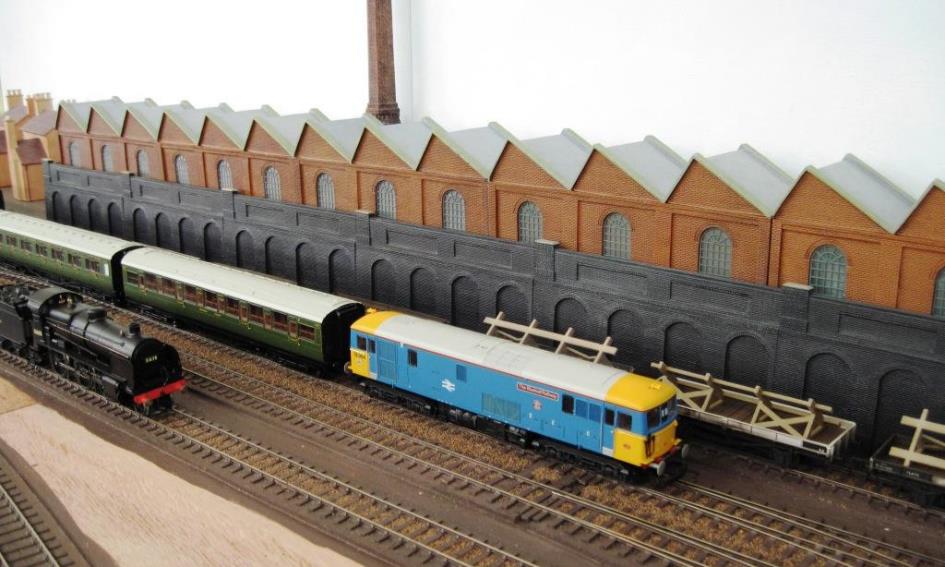 <![endif]>
No.47 636 named 'Sir John de Graeme' was the second large logo TOPS class 47 to appear; complete with its 'West Highland Terrier' decal.
Originally outshopped as D1920 on 30th November 1966, it was renumbered 47 243 (December 1973), 47 636 (January 1986) and finally 47 777 (June 1994). On 28th April 28th number 47 636 received the name 'Sir John de Graeme' at Falkirk Grahamston station by Councillor James Anderson, Convenor of Central Regional Council. The nameplates were removed in January 1993.
Latterly 47 636 was restored at Crewe Diesel TMD (10th March 1993). It was subsequently reclassified as 47/7 and renumbered as 47 777 on 19th May 1994.
As D1920 the locomotive entered service in two-tone green with yellow warning panels (before receiving full-yellow ends) thence (as 47 243) BR blue with the large logo /grey roof appearing as 47 636 (thence blue roof). Post-British Rail it received Rail Express Systems livery, large logo blue and return to a Rail Express Systems livery.
Allocated to Inverness /Intercity no.47 636 moved south to the Network South East area (thence Old Oak Common) in March 1991.
A 13th-century Scottish nobleman, 'Sir John de Graham' was born in the lands of Dundaff, Stirlingshire to David de Graham and Agnes Noble.  Known as Sir John with the Bright Sword, he was killed on 22nd July 1298 during the Battle of Falkirk.
<![if !vml]>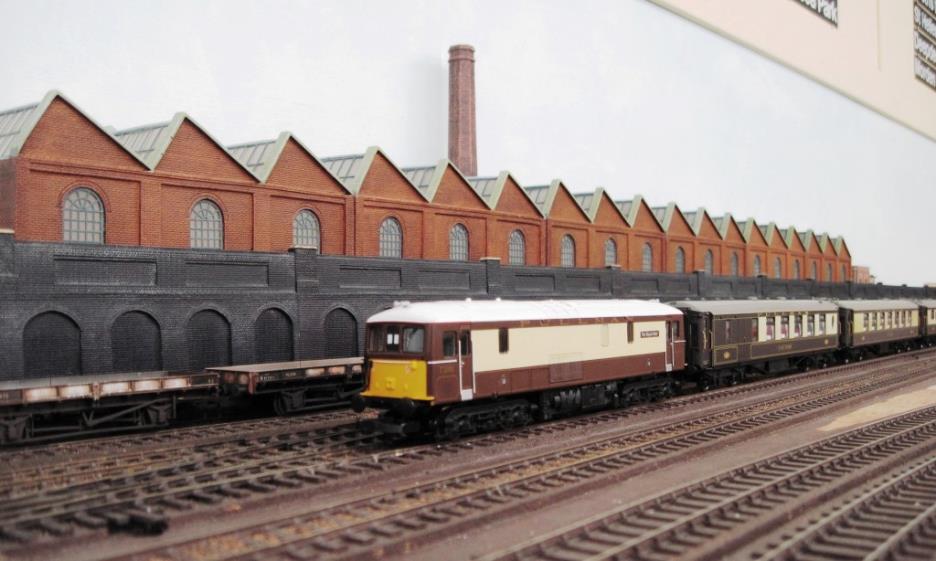 <![endif]>
Finally, after all had departed it was time for a little 'me' time with my own stock.  Here 6587 hauls new 4TC set 416 on the Down Line. When the 4TC sets were first introduced (no.416 on 25-Oct-66) they saw occasional use on passenger trains simply as locomotive-hauled coaching stock; hence being hauled by a non-push-pull equipped 'Crompton'.  The conversion of loco-hauled Mk1 coaching stock into 4 REP /4TC units saw a shortage of carriages leading to some Bulleid 64' coaches being reallocated 'off-region'. 
Being a restriction '0' locomotive, D6587 was not one of those selected for conversion to push-pull operation. The model 'slim-Jims' were produced by Heljan and refitted with Ultrascale wheels. Coupling droop is an issue on some Heljan locomotives leading the coupler to catch stock-rails on turnouts and derail. Accordingly, Heljan's couplings (with their stepped-down shanks) are replaced with couplings equipped with straight shanks so they do not catch on the stock-rails (etc).
'Sunday Services at Ewhurst Green' 18th August 2019
Very unusually this East Sussex Finescale meeting was held on a Sunday. Given the sunshine our local beachfront café was surprisingly quiet apart from a few vintage aircraft flying past! This led to much discussion, particularly on the Spitfire & Hurricane aircraft. Luncheon over, it was time to retire to the air-conditioned cool of the trackroom…….
<![if !vml]>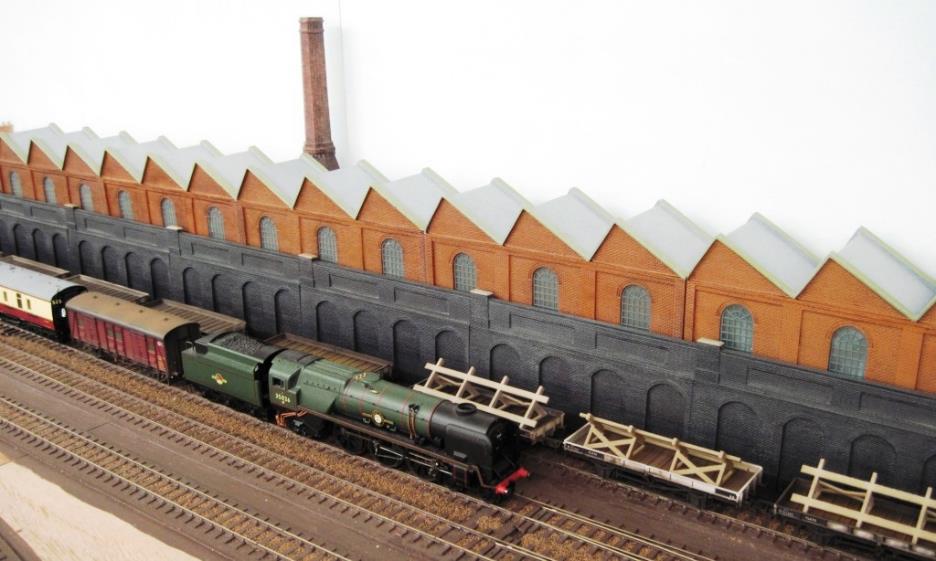 <![endif]>
With a 5 BEL unit speeding past on the Down Main, rebuilt Merchant Navy class 35026 'Lamport & Holt Line' (as it ran somewhere between November 1962 and March 1965) hauling a short train of five 'late crest' Pullman cars on the Up Line. Whilst the Pullman cars were visitors the Merchant Navy locomotive was not.
Founded in 1845 by William Lamport and George Holt, 'Lamport & Holt Line' was based in Liverpool (Holt's brother Alfred founded Blue Funnel Line – Hornby has yet to model no.35013). In 1911 the company was taken over by the Royal Mail Steam Packet Company, but it continued to operate as a separate business. Following the 1929 Wall Street crash Royal Mail Steam Packet Company collapsed. However, in 1934 the Royal Mail Steam Packet Company was reconstituted as The Royal Mail Lines Ltd, which (in 1944) was sold to the Blue Star Line (Hornby model 35010). This 1934 reconstitution enabled Lamport and Holt Line to survive as a separate business until 1974.
<![if !vml]>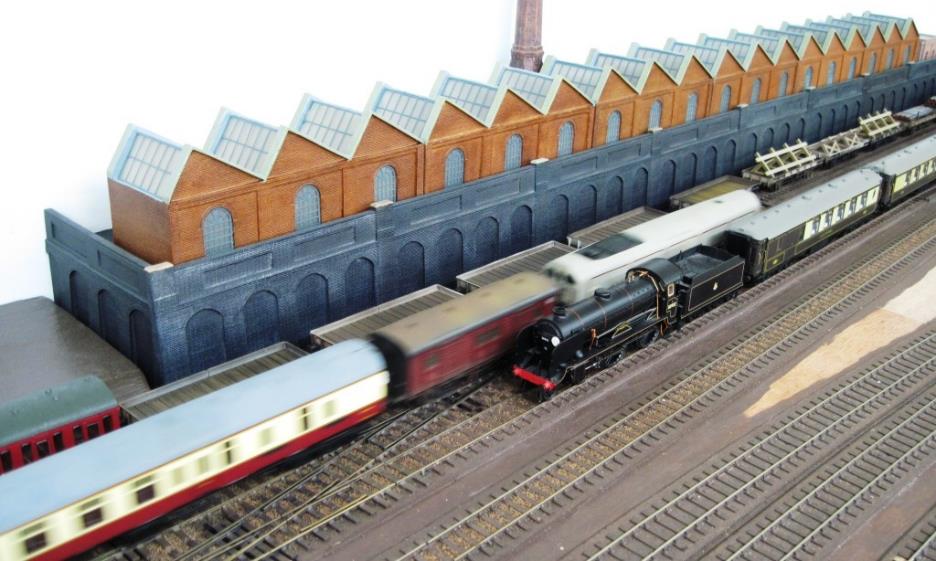 <![endif]>
Resident visitor 'Brighton Belle' 5 BEL unit no.3053 took a turn on the Down Main. It carried this livery from 30th May 1969; being the last to lose its Umber and Cream. Current disposition of its cars is understood to be as follows:
| | |
| --- | --- |
| Schedule No.281 (Gwen) | Belmont Pullman Ltd (former VSOE). |
| Schedule No.283 (Mona) | Belmont Pullman Ltd (former VSOE). |
| Schedule No.285 (Car no.85) | 5 BEL Trust (for mainline working). |
| Schedule No.292 (Car no.92) | Belmont Pullman Ltd (former VSOE). |
| Schedule No.293 (Car no.93) | Belmont Pullman Ltd (former VSOE). |
<![if !vml]>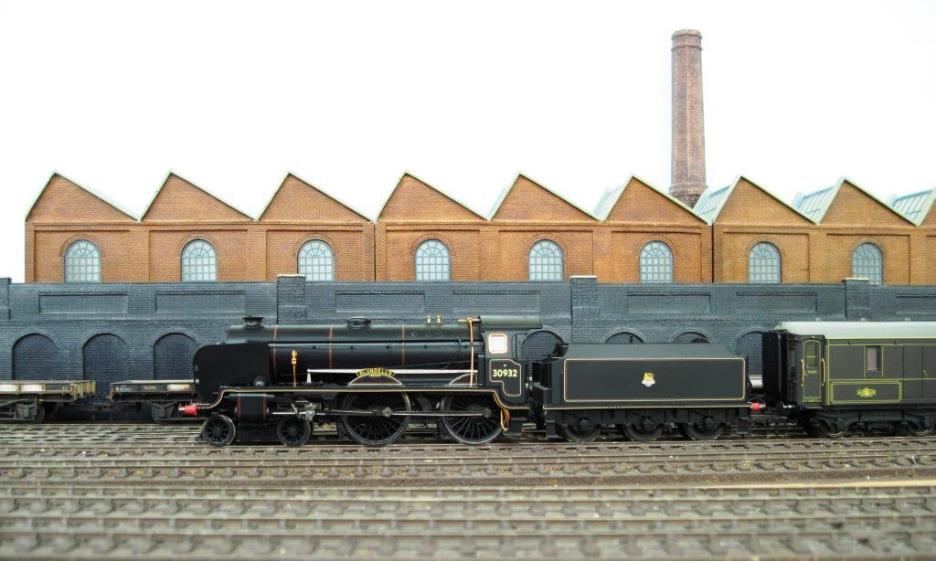 <![endif]>
The second Merchant Navy of the day was 35012 'United States Lines' as it ran between May 1962 and December 1964, The Hornby model dates from 2004-2006 being released as part of the R1038 VSOE set. According to its owner, this model had only been purchased the week before.
The American transatlantic shipping company United States Lines operated ocean liners from 1921 to 1969 and cargo services up to 1989. Filing for bankruptcy on 24th November 1986, at the time this was one of the largest bankruptcies in US history. From 1952, United States Lines operated the fastest ocean liner ever built, SS 'United States'. However, competition from airliners ended its service in 1964.
<![if !vml]>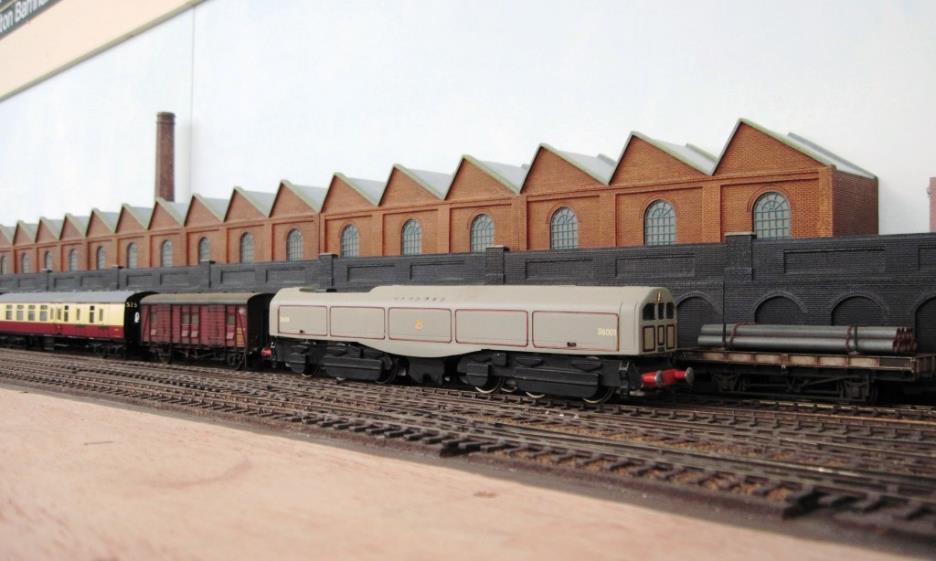 <![endif]>
Metro-Cammell class 101 diesel-mechanical multiple unit (DMMU) on the Down Main. This Bachmann model comprises Driving Motor Brake Second DMBS no.51217 and Driving Trailer Composite DTC(L) no.E54364. The original units were built at Washwood Heath (Birmingham) between 1956 and 1959.
Classified under TOPS as 101/2 the diag. no.523 DMBS no.E51217 seated52 passengers, weighed 32 tons and was built to Lot no. 30467 in 1958. However, DTC(L) no.E54364 was a renumbered car originally in the 56xxx range; presumably previously being diag. no.E56364 which seated 12 first and 53 second class passengers, weighed 25 tons and was built to Lot no.30468 in 1957.
<![if !vml]>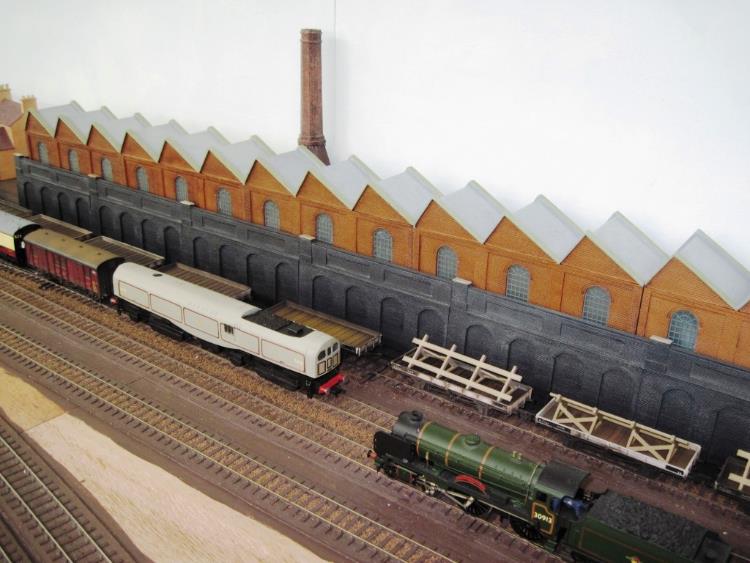 <![endif]>
The third rebuilt Bulleid pacific of the day was Battle of Britain class no.34077 '603 Squadron' as it appeared between July 1960 and March 1967 on the South Western Division.
No. 603 Squadron was formed on 14th October 1925 as an Auxiliary Air Force bomber unit based at RAF Turnhouse (now Edinburgh Airport). However, on 24th October 1938 the squadron was re-designated as a fighter unit and by August 1939 it was starting to fly Spitfires. Within weeks of the commencement of the Second World War the squadron was placed on a full-time footing. The squadron survives today.
<![if !vml]>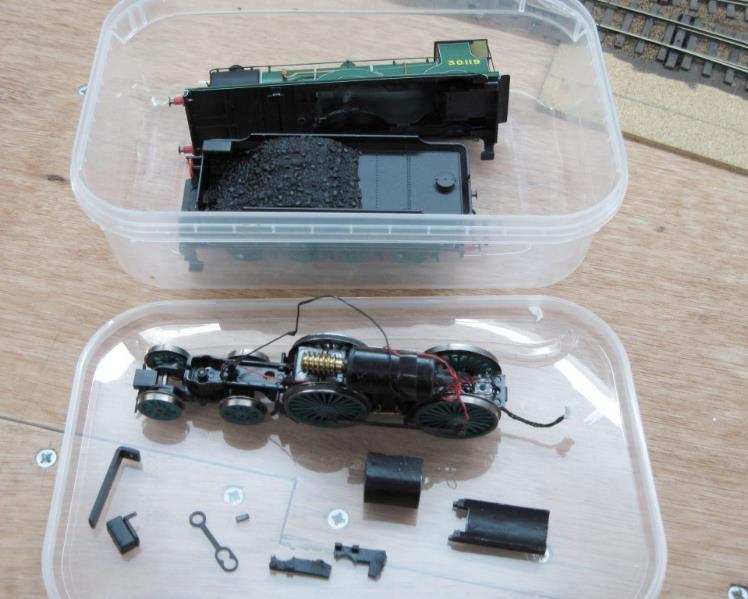 <![endif]>
Leading the class 101 unit, two-car class 108 unit comprising Driving Motor Brake Second 53959 (previously 50xxx series) and Driving Trailer Second DTS(L) no.54243 (renumbered and with the first class declassified to second class). These units were built at Derby Works between 1958 and 1961 primarily for the Eastern and Midland regions; the last of these were withdrawn from mainline service in 1993. This unit has small destination blinds shewing 'Skipton' and 'Leeds' (the latter being shewn on the motor brake coach.
<![if !vml]>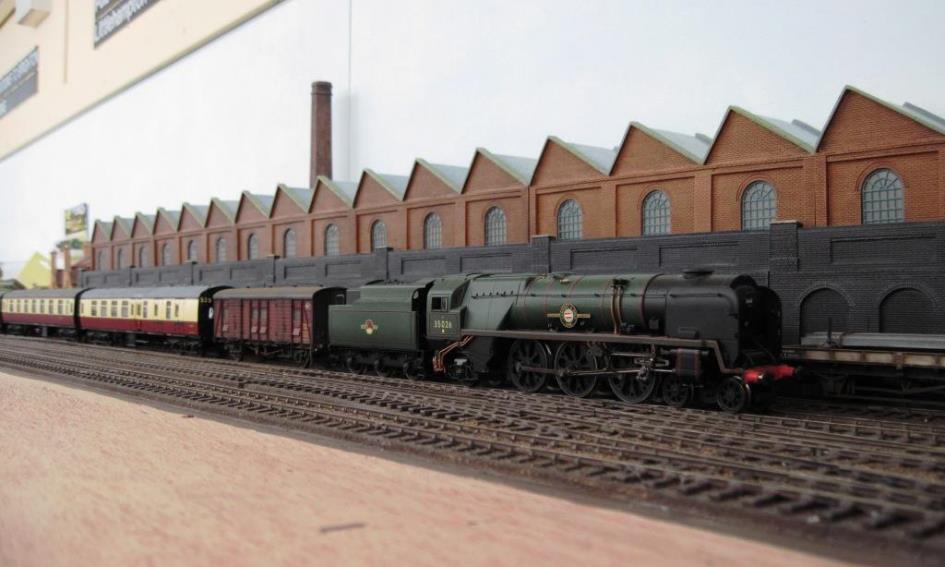 <![endif]>
On 22nd April 1965 English Electric locomotive 37 415 entered service at Cardiff Canton depot as D6977. Under TOPS it was renumbered 37 277 on 1st January 1973, before receiving 37 415 during 1985. In Inter-City livery, the model sports the Kingfisher logo of Thornaby depot.
Many class 37/4 locomotives ended up in Scotland, only to be displaced by Sprinters on the West Highland and Far North lines with their regular use essentially being services between Inverness, Aberdeen and Edinburgh along with summer services to Kyle of Lochalsh. However, their final work in Scotland ended in June 2006 with the sleeper services to Fort William.
'Summer in the South' 27th July 2019
Just two days after the UK's hottest day we were all looking out to sea, through the rain from our packed beach-front café!  Even the track room's air-conditioning wasn't needed!  It was clear that a visiting Bulleid multidoor set was probably likely, but 'what else' wasn't clear – certainly one of our members had been on holiday close to Camborne and a visit to Kernow's model shop must have been inevitable.
<![if !vml]>
<![endif]>
West Country class no.34001 'Exeter' heads a six-coach Bulleid set; the first of which being 59' multidoor set no.968 (with my 64' set no.365 at the rear).  'Exeter' has visited the layout before; the last time being in January 2019.
With the period of Hornby's 59' Bulleid set model being July 1957 to March 1963, this combination would appear to be July to October 1957 as (in the guise modelled) the West Country class dates between 1949 and 1957 when it went in for rebuilding on 21st October 1957.
<![if !vml]>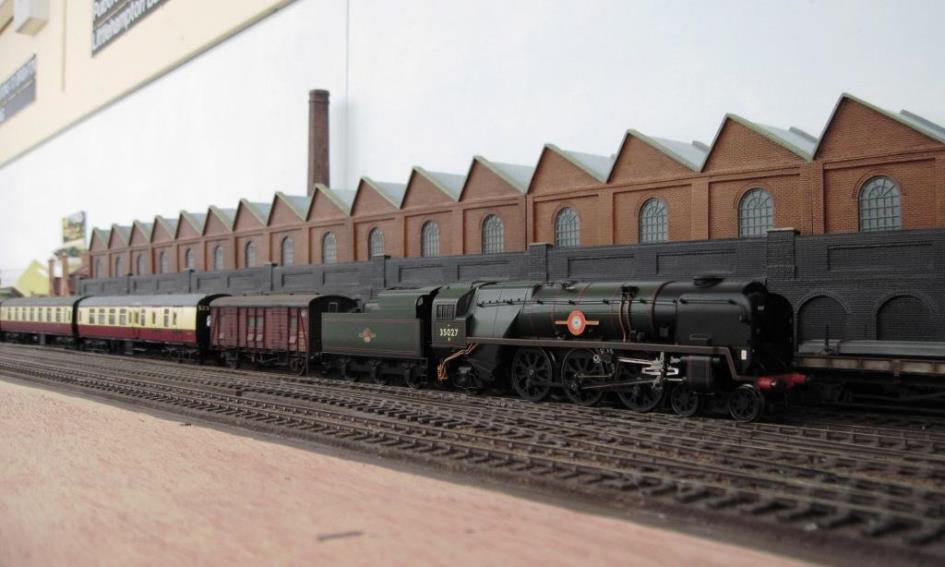 <![endif]>
With Bulleid coaches rattling past on the Down Line, H-class no.31518 leading pull-push set no.610 on the Up Main.  In 1907, the South Eastern and Chatham Railway commenced production of H-class tanks at Ashford works; the (then) no.518 entering service in July 1909 with both vacuum and Westinghouse brakes. 
In March 1952 no.51518 was motor fitted.  Following the disastrous Kent floods in 1953 (where the main line was breached between Birchington and Herne Bay) it saw much use running shuttle services between Herne Bay and Faversham until M7 tank engines from the SWD took over.  No.31518 was one of the last three H-class to be withdrawn in January 1964, this being from Three Bridges shed.
<![if !vml]>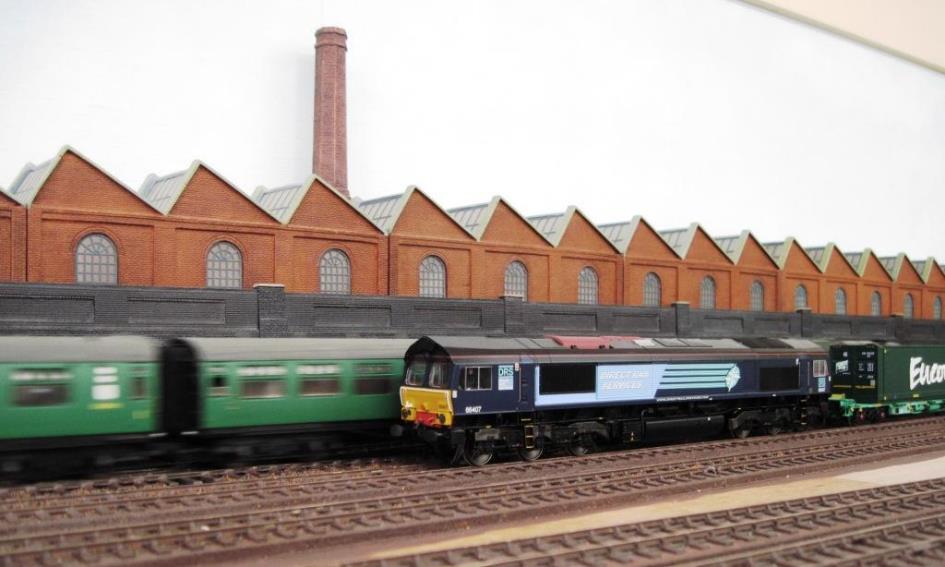 <![endif]>
Built as E6044, type JB EDL no.73 202 was repainted from Gatwick Express livery into Southern colours at St Leonards diesel depot outshopped 9th December 2013 and transferred to Battersea Stewarts Lane depot the next day.
No.73 202 was subsequently named Graham Stenning on 11th December 2015 at Lovers Walk Depot having previously carried the names Royal Observer Corps (1985 to 1997) and that of Dave Berry (2005 to 2013).  After the 2005 naming and during lunch with Dave (at a café frequented by most at Stewarts Lane) he admitted his complete surprise at having the locomotive named after him!  This model had been purchased by a member whilst on holiday in Cornwall the week before.
<![if !vml]>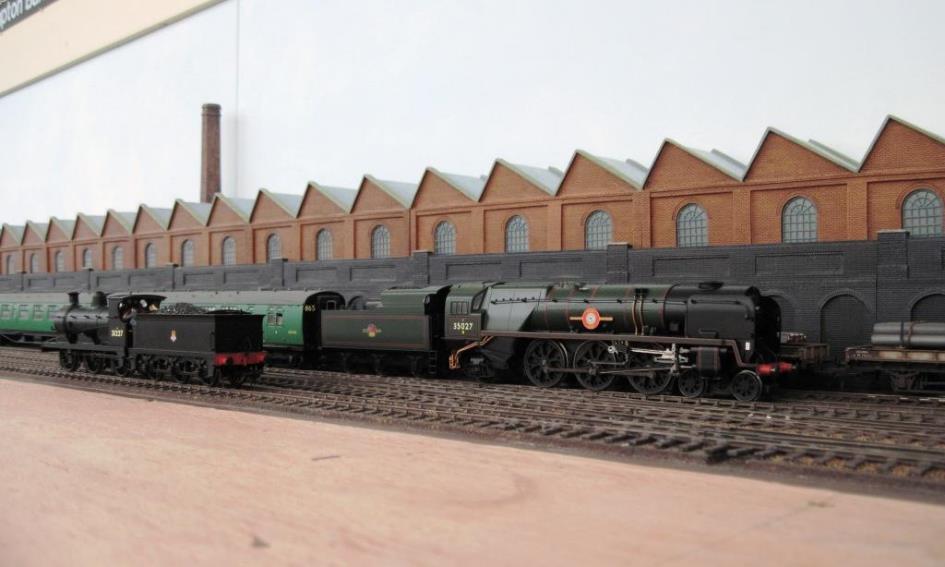 <![endif]>
Built in 1960, W55020 was one of British Rail's sixteen class 121 is a single-car double-ended diesel multiple units; number range 55020 to 55035.  Built by Pressed Steel, in 1985 W55020 was painted into 'GWR' chocolate and cream livery as part of the 'GWR 150' celebrations.  During 1985, in this guise it attended open days at Reading and Old Oak Common open days and operated enthusiast shuttle along the Brentford goods line.
This Hornby model (R2644) dates from 2007-2008 (Dapol subsequently produced a model of W55020 in the same livery).  In 1992, unit no.55020 entered into departmental use (as 960002) then returned to passenger use in 2002 until 2017 making this Britain's longest serving class of passenger diesel multiple-unit.
<![if !vml]>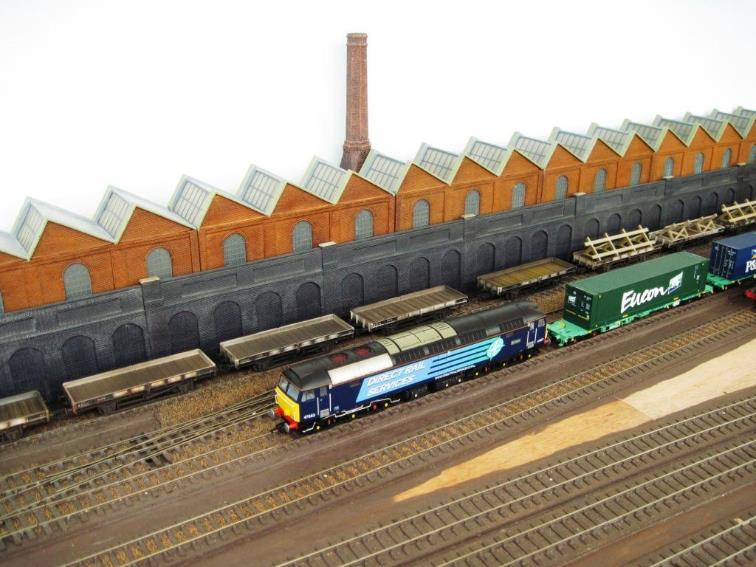 <![endif]>
H-class no.31518 propelling pull-push set no.`610 on the Down Main.  Set no.610 existed between September 1960 and October 1964 being used on the Paddock Wood - Hawkhurst Branch, Reading South - Ash - Guildford Line and the Tonbridge - Paddock Wood - Maidstone West Line.
<![if !vml]>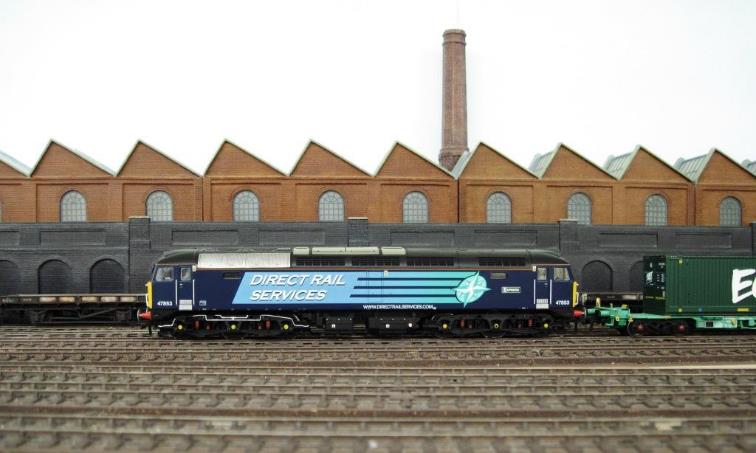 <![endif]>
Outshopped by Hunslet-Barclay in 1991/92, thirty-five number two-car class 155 two-car units were converted into seventy single-coach class 153 multiple units; these being numbered 153 301 to 335 and 153 351 to 385.
On the Up Main is visiting Hornby unit no.153 382; this unit being one of twenty-one now allocated to East Midlands Trains.  However, it is seen here with a St. Ives destination blind in its former Wessex Trains livery.  National Express operated Wessex Trains from October 2001 to March 2006 when operations were merged into the Greater Western franchise (with the Thames Valley franchise) and brought under the control of Great Western Railways.
'The Hottest Day' 29st June 2019
It may have been the hottest day of the year (so far) but a cool breeze through the doors meant our usual beach-front café was reasonably pleasant.  With its air-conditioning the track room was also more than comfortable!
Connex liveried 2H unit number 205 012 on the Up Line outshopped 3rd August 1998 having officially been reduced to a two-car unit in October 1998 following extensive repairs to the door pillars on the DMBS /DTC but not the TS.  This was not without some irony for no.1112 was new into service as a 2H 'Hampshire' in 20th September 1957; having been made up to a 3H in 1959.  It was renumbered no.205 012 in August 1986.
<![if !vml]>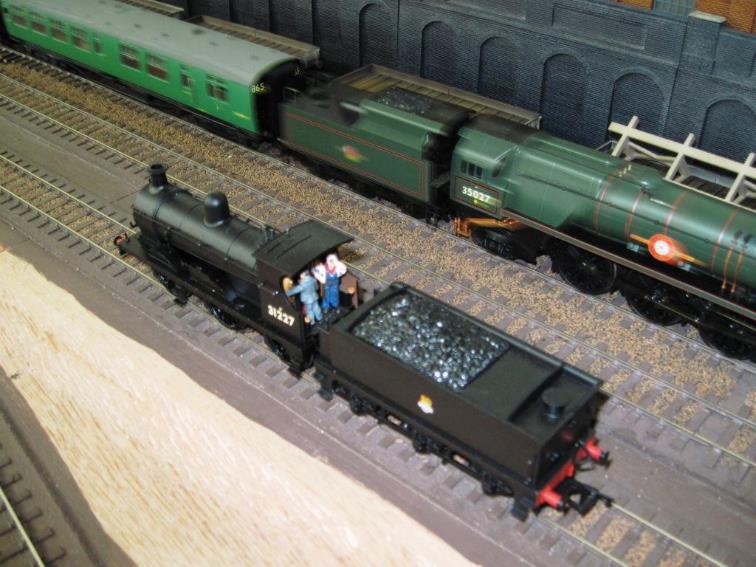 <![endif]>
No.9319 was one of 342 in the 4300 class; these being designed by GJ Churchward in 1911 with this locomotive being in the final build-lot (276) of 30th April 1932 Lot 276 comprised twenty of the class built under Charles Collett to a modified design incorporating cabs with side windows, screw reverser, outside steam pipes and extended frames.  The 4300 class utilised many standard parts including 'Saint' outside cylinders, 3100-class driving wheels and the GWR's No. 4 boiler (superheated).  At nationalisation no.9319 was allocated to Reading shed but withdrawn from Croes Newydd on 30th September 1962 for scrapping at Swindon works. 
<![if !vml]>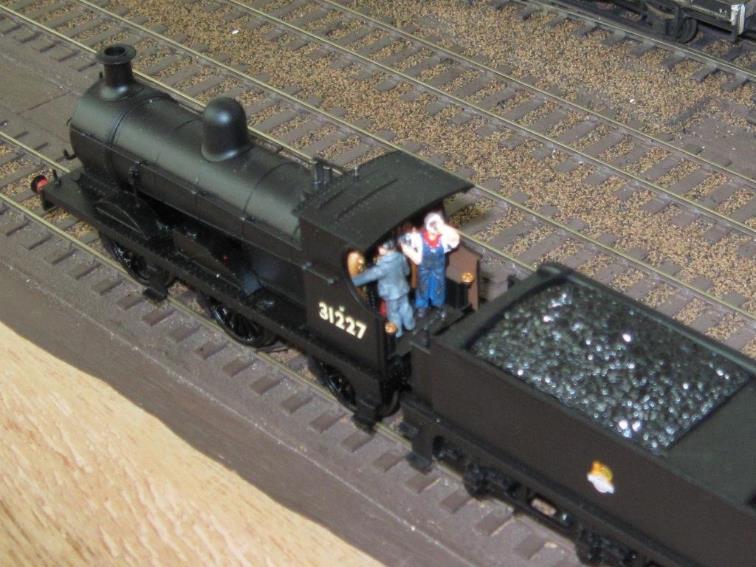 <![endif]>
Crompton no.33 114 hauling 4 TC set no. 404 on the Up Line.  Initially set no.404 ran as a 3 TC to form an eleven-coach train (from August 1966).  The driving coaches of unit 404 had been converted from Mk1 Diag.93 Trailer Second Open (TSO) coaches built between 1954 and 1956, Corridor Firsts (FK) built 1951 and Brake Second Composite (BSK) built 1956.  It was outshopped in blue /grey livery 17th June 1968 and renumbered 8004 in October 1986.
<![if !vml]>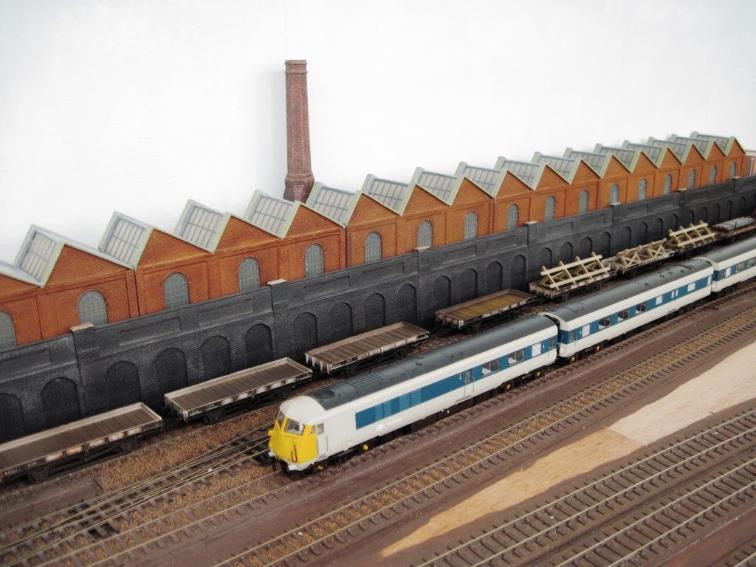 <![endif]>
Shunting locomotive 03 066 hauling vans on the Down Line.  Numbering some 230, the TOPS class 03 (along with the 04 class) were successful diesel-mechanical shunting locomotives built at Swindon and Doncaster Works between 1957 and 1962.  Intended for light duties (especially for shunting at carriage depots and as station pilots) they also saw passenger use on the Weymouth Harbour tramway.  However, as their work reduced the class were progressively withdrawn from 1968 onwards.
Built at Doncaster as D2066 on 17th August 1959, under TOPS it was renumbered 03 066 on 31st December 1973.  Fortunately, after withdrawal on 8th January 1988 no.03 066 entered into preservation.
<![if !vml]>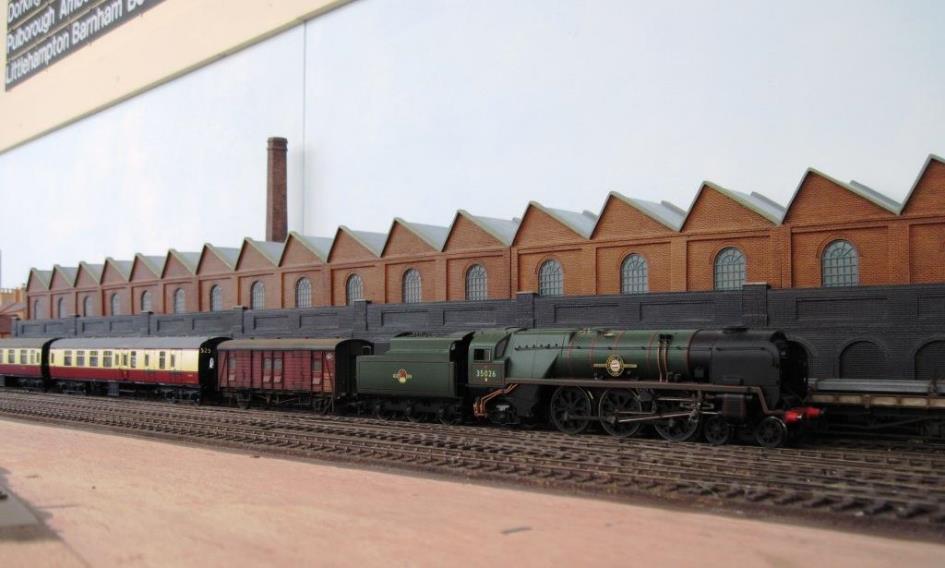 <![endif]>
Part of Lot No.30086, 'SO' S3929 was built at Eastleigh on Ashford underframes during 1954-55 being delivered in Crimson and Cream but not known when repainted green, probably 1959 or 1960.  On 6th July 1966 it was outshopped as S76275 to form 'DSO' in 4 TC unit 404.  Now in preservation S76275 is believed to be the only single-glazed REP /TC coach to survive.
<![if !vml]>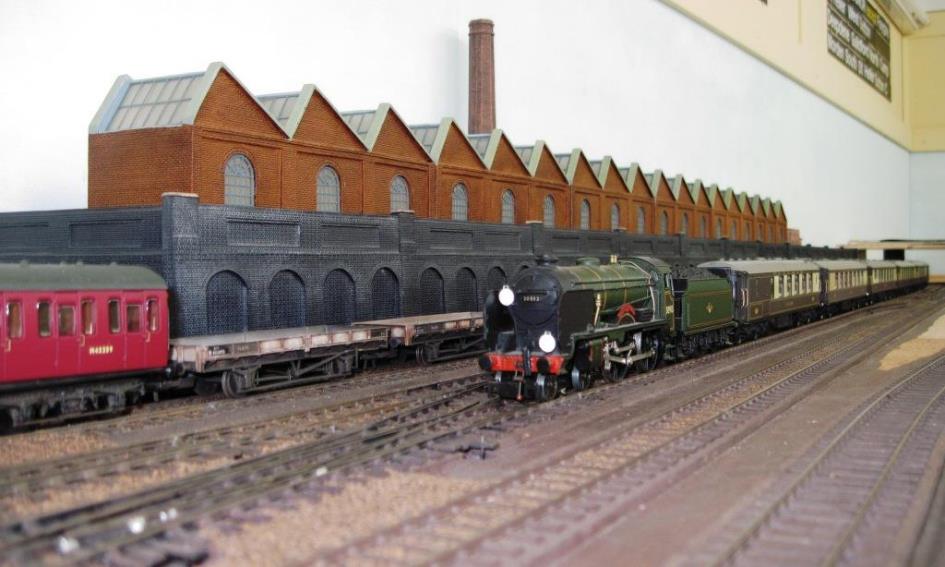 <![endif]>
Built under GJ Churchward at Swindon Works 30th November 1905, no.2812 it entered BR service at Chester shed and was withdrawn from Stourbridge Junction 30th January 1959 and cut-up at Bridgend 30th September 1959.  Designed for heavy freight the 2800 class were the first 2-8-0 'Consolidation' configuration in the United Kingdom; unfortunately, the haulage capacity of this model did not match the original.
Following a 1903-built prototype, construction of the production series ran from 1905 to 1919.  Some twenty-years later the 2884 class (built 1938 to 1942) was a development of 2800 class.  Although six of the 2800 class survive into preservation no.2812 is not amongst them.
<![if !vml]>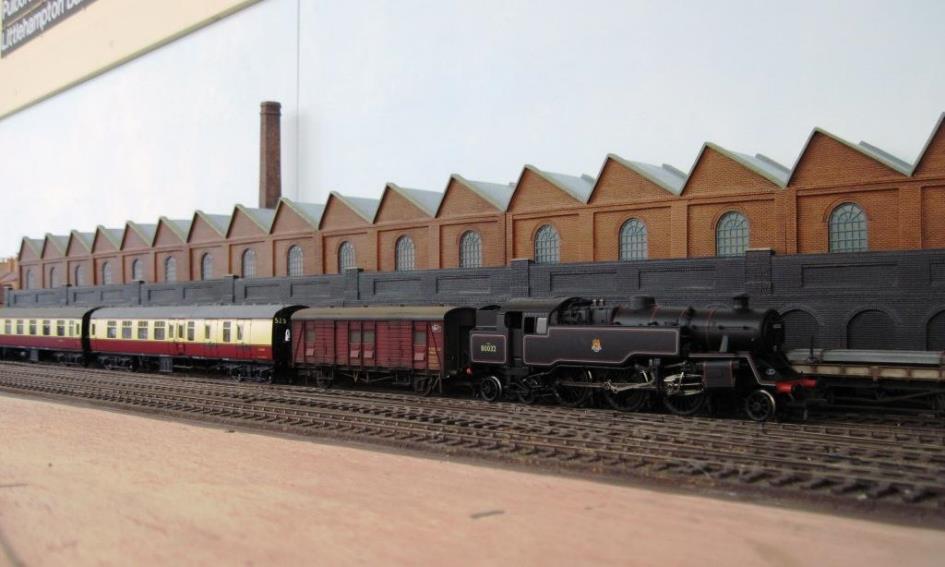 <![endif]>
Upon popular request by all my D6580 made an appearance.  The original locomotive entered traffic on 9th December 1961 and in 1965 was equipped at Eastleigh with high-level brake pipes /jumper cables for trialling the push-pull operations proposed for the Bournemouth electrification.  As such, it was the only British Rail's only push-pull BRCW Type (class 33 under TOPS) in green livery and their only one to sport a small warning panel!
For about a year starting in January 1966, it operated with 6-TC set 601 between London Bridge and East Grinstead.  Usually propelling from the country-end and with no compression bars to either D6580 or set 601, the ride could be a bit rough at times!
D6580 was the last BRCW Type 3 to be fully converted for push-pull operation being repainted into blue livery, roof conversion undertaken with drop-buckeyes and compression bars added.  In 1974 it was renumbered as 33 119, withdrawn in 1989 and scrapped in 1992.
<![if !vml]>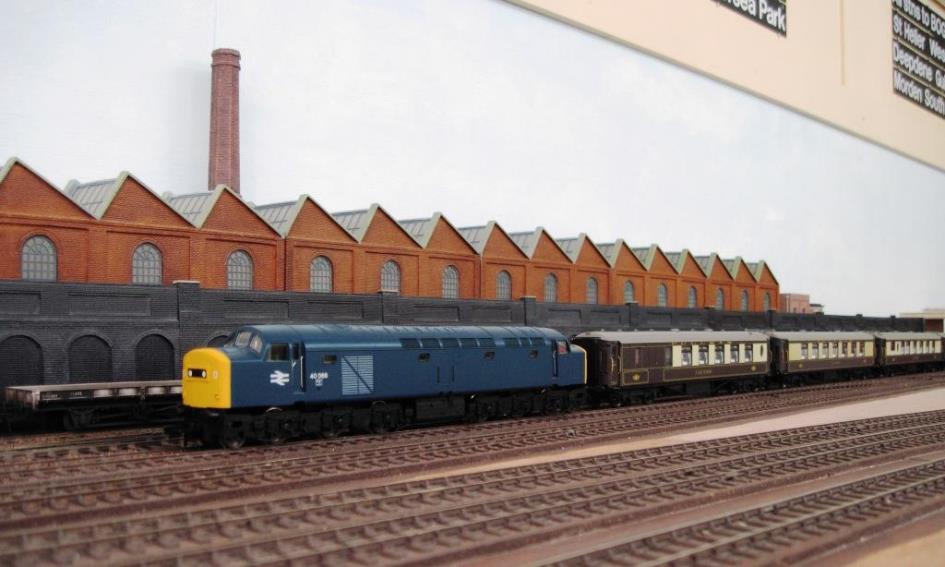 <![endif]>
'The Longest Play' 21st June 2019
It is not often that I have some 'me' time on my model railway, but Friday, 21st June was the longest day and I'd contemplated catching a few moments of running.  As somebody who is up before the lark it wasn't difficult to venture into the model room to take a photograph of E4 class no.32503 hauling some Crimson Lake suburban coaches.  The coaches are actually Graham Farish and were repainted /detailed some thirty-years ago when the availability of such rolling stock as quite poor by today's standards.  The E4 is a 00 Works model and runs very nicely.
<![if !vml]>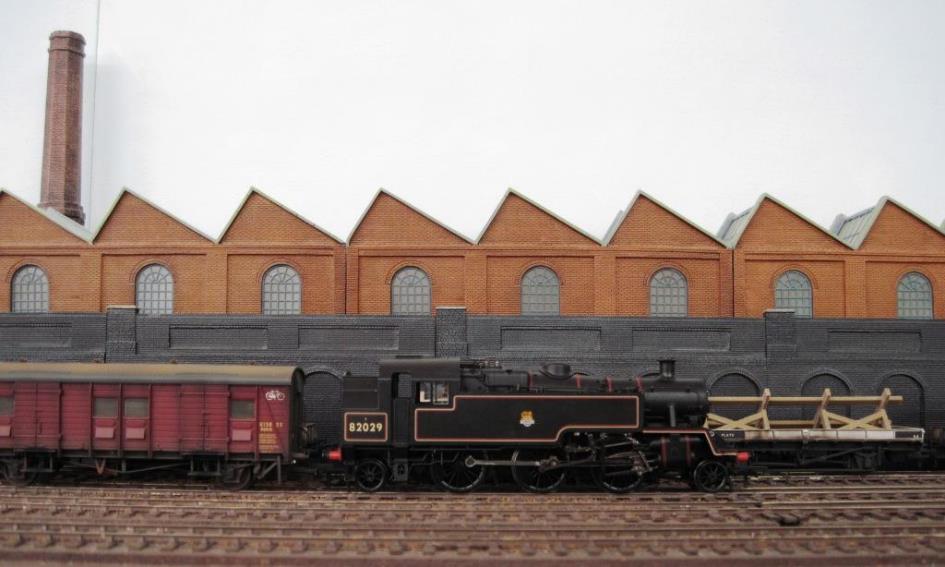 <![endif]>
It seemed to be appropriate to have a locomotive that was introduced into service on or close to the longest day so during the afternoon D2988 (class 07 under TOPS) undertook some shunting duties.  Designed to replace the USA tanks at Southampton Docks half of this class of fourteen still survive; into service in 16th June 1962 number D2988 is not amongst them.  Being prone to hot axle-boxes these locomotives rarely ventured far from Southampton although I understand from a railway colleague, they saw use at Poole Harbour and I recall seeing them at Bournemouth depot (on the former Bournemouth West line).  It appears one did venture to Selhurst and when several were withdrawn in 1976 number D2991 became Eastleigh Works shunter attaining a light green livery (I believe it might still be there).
I wasn't intending to buy any of these locomotives but just happened to be swilling tea in my local model shop when this new-release arrived.  As these shunters saw so little use away from Southampton Docks just one number-version will suffice – my excuse being it was replacing the USA tank on the short but sharply-curved wartime-built branch from Ewhurst Green to Dunsford Aerodrome……
<![if !vml]>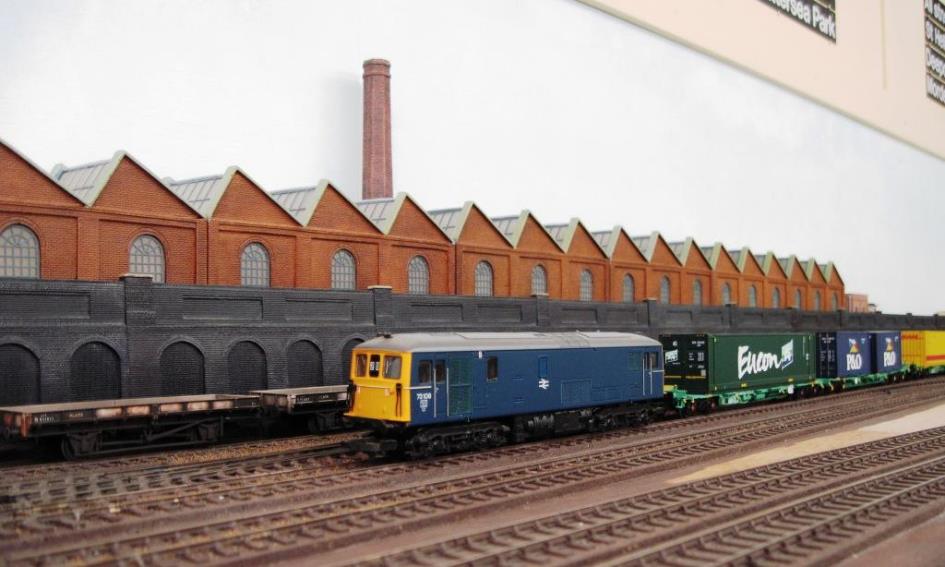 <![endif]>
Finally, at sunset Merchant Navy 35026 'Lamport & Holt Line' took charge of a visiting Pullman train; all of which carry the post-1959 Pullman crest.  I had treated their owner to Kadee buckeye-couplings (in lieu of assistance given) but upon fitting found one Pullman car did not have NEM drag-boxes; instead using 'Dapol'-style conversion couplings clipped and screwed onto a round post.  One of the brake cars had a NEM drag-box on the passenger end but a 'clip & screw' coupling at the baggage end.
Although Kadee No.20 couplings were fitted, it is highly likely that No.19 or even no.18 might provide for an even-closer coupling whilst not causing problems being propelled across a Peco medium radius (36") crossover.  Besides being prototypical, buckeye couplings are easier to separate, yield a close-coupling and assist in keeping the cars in line when hauling or propelling.
<![if !vml]>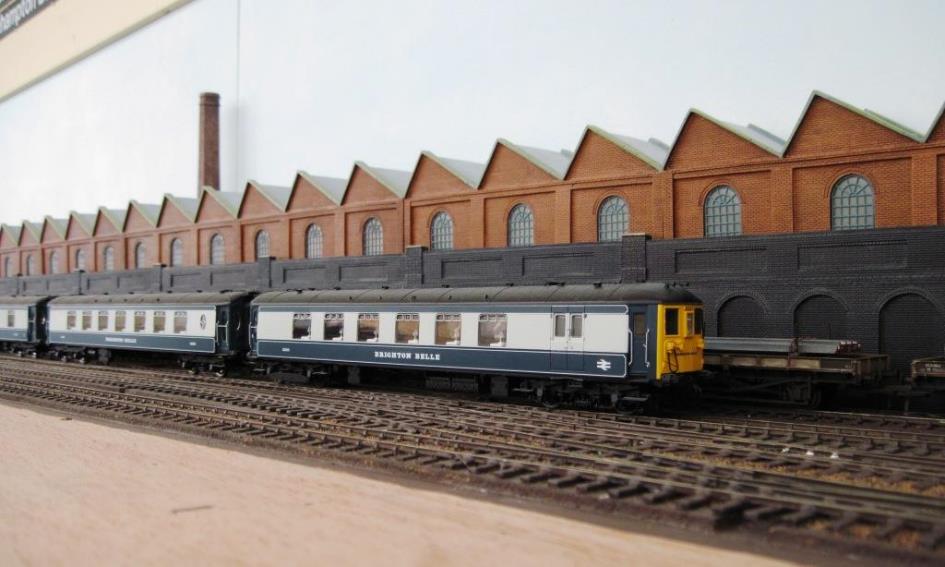 <![endif]>
Whilst I freely admit there wasn't continuous running throughout the day (although for many years the Kenny Belle between Clapham Junction and Kensington Olympia only made two morning /two evening trips each weekday) this dawn-start and dusk-finish on 21st June arguably provided 'the longest play'!
'Suburban Summer' 15th June 2019
For family reasons the running sessions have been slightly reduced and unfortunately lunch couldn't be undertaken at our usual beachfront restaurant, being in the north of the county (again) so two of us just had to 'make do'.  However, when running did commence there was surprise in the form of my Southern Region suburban coaches (a three-car set no.154 supplement by two seconds) hauled by one of my Southern Region class Type 2 (class 24) locomotives.
Southern Region allocated D5000 hauling BR(S) 64' suburban coaches.  In January 1958 D5000 (along with D5001 to D5006) was allocated to the South Eastern Division's (SED) Hither Green (73C) shed to operate in the London and North Kent area.  This was move was made prior to completion of the Kent Coast electrification and delivery of the BRCW 'Cromptons' type KA diesels (class 33 under TOPS). 
<![if !vml]>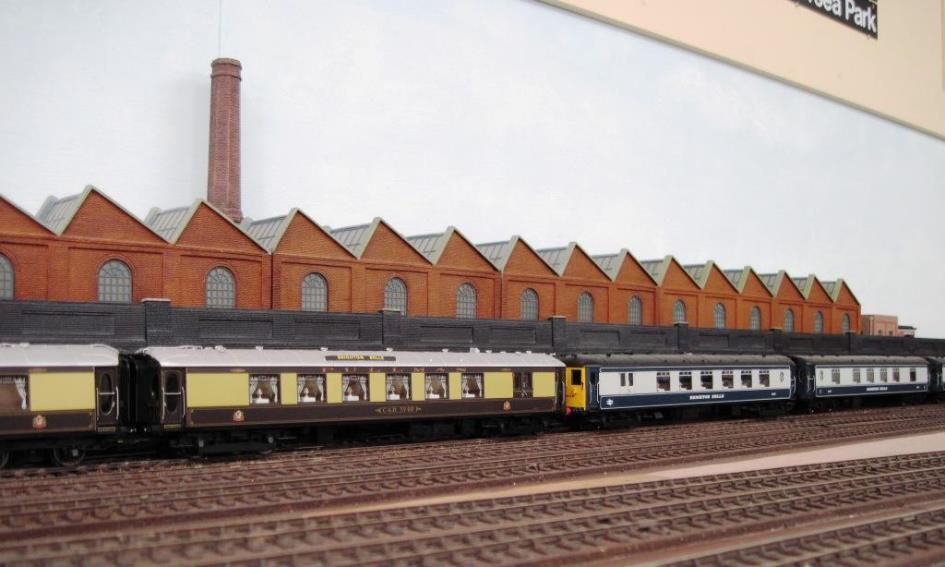 <![endif]>
In Trainload livery, class no.37 692 "The Lass O' Ballochmyle" takes charge of the Freightliner intermodal train.  Built by Robert Stephenson & Hawthorn Ltd and into service 10th April 1963 at Cardiff Canton as D6822 in 1973 it became 37 822 under TOPS and was renumbered 37 692 in 1986.  Withdrawn 1st December 2004, it was cut-up at C.F. Booth (Rotherham) on 1st July 2009.
The heroine of Robert Burns' 1786 poem and song "The (bonnie) lass o' Ballochmyle" was Miss Wilhelmina Alexander, sister of Claud Alexander, Esq. of Ballochmyle; described as a beautiful estate on the banks of the Ayr (near Mossgiel).
<![if !vml]>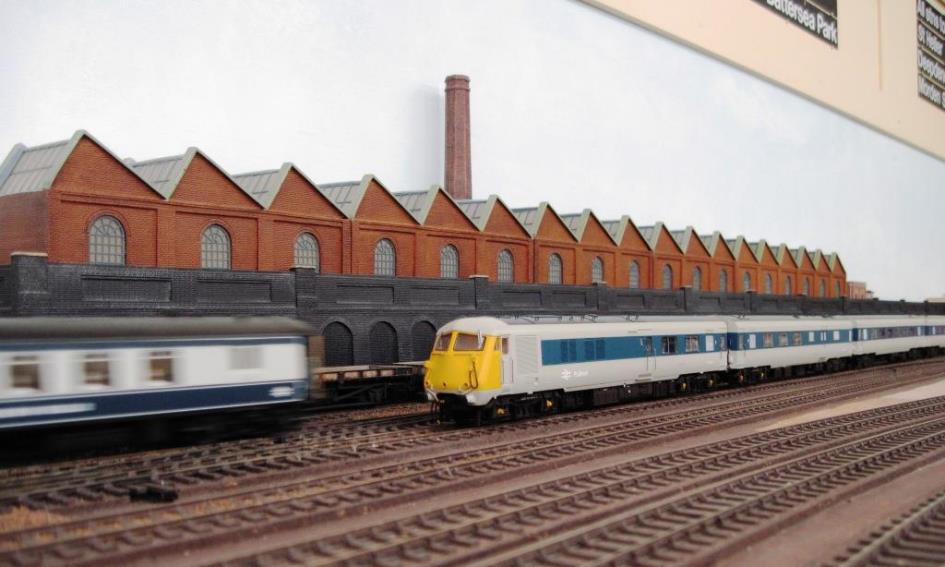 <![endif]>
A development of the 2-6-2 tank engine, this H.G. Ivatt (LMS)-designed class 2 no.46521 was built at Swindon Works and introduced to service at Oswestry shed (89A) on 19th February 1953 immediately prior to being allocated to Brecon (89B) 21st March 1953 thence Oswestry 31st October 1959 before moving to Machynlleth (89C) 9th March 1963 and withdrawal in October 1966.  Seven of these locomotives entered into preservation.  In BR lined green livery the class were designated 2F under the LMS and 2MT by BR.
These 64' suburban coaches were produced by Replica with the Exmouth Branch three-sets possibly being the first 4mm contemporary coaching sets produced in correct number /set formation.  Replica produced three coach variants, the BS (Brake Second), S (Second) and C (Composite) modelling sets 152, 153, 154 and 155 in Green and Crimson livery versions with Southern and Western Region variants.  Loose coaches were also produced along with coaches for BR(S) set 904.
<![if !vml]>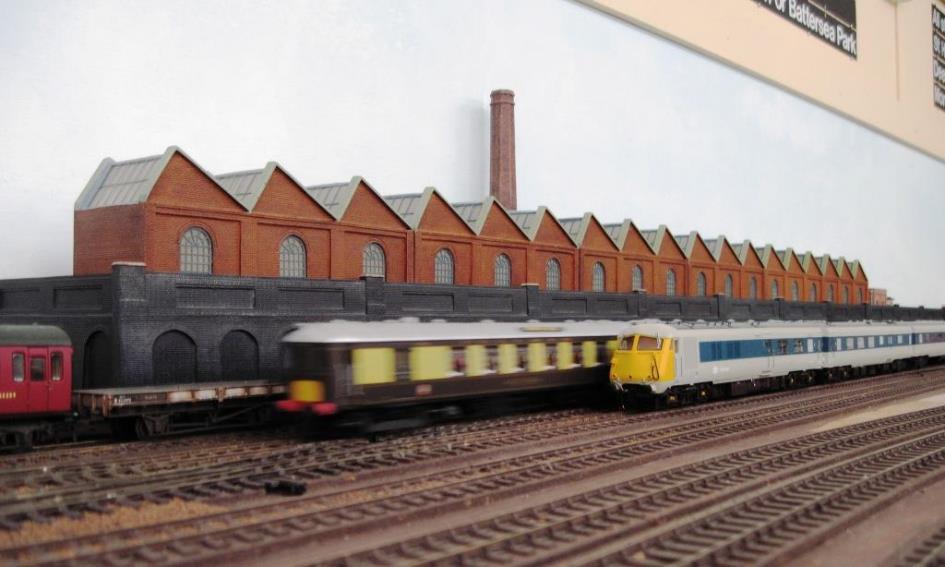 <![endif]>
Built by Crewe Works, no.45 120 entered service as D107 at Derby (17A) on 20th July 1961; it gained its TOPS number on 31st March 1974.  It was withdrawn on 24th March 1987 and cut-up at MC Metals (Springburn) on 19th March 1993 having spend its 'TOPS' working life on BR's Nottingham Division.  Although it doesn't look out of place hauling intermodel wagons which were introduced in 2004 some seventeen years after the withdrawal of 45 120.
The first ready-to-run 'peak' was produced by Mainline thence Bachmann and Replica (albeit by Kader).  Now Heljan have announced their own model.
<![if !vml]>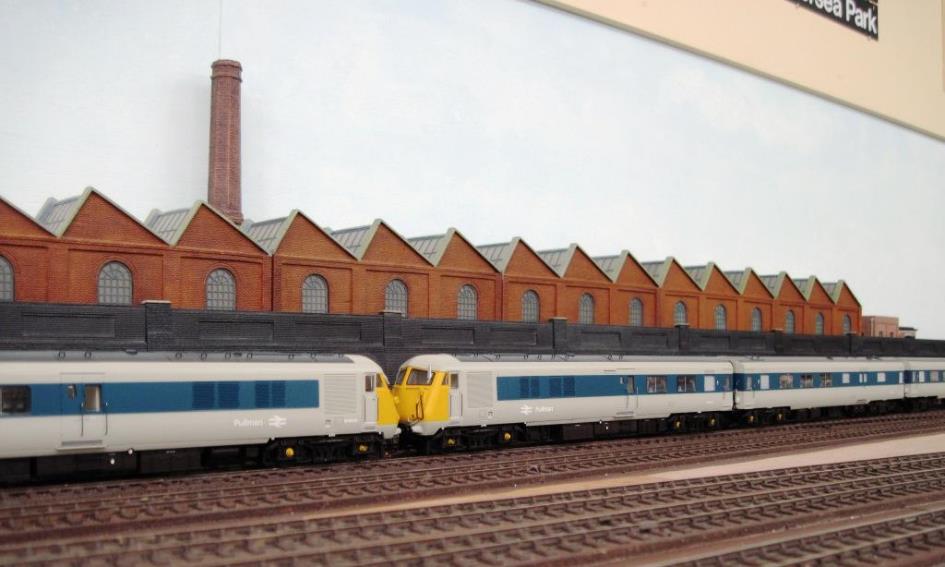 <![endif]>
London Midland 'Mucky Duck' number 43047 hauling the Exmouth Branch three-set 153 (Brake second, Composite and Brake Second) supplimented by two Loose seconds.  Designed by H.G. Ivatt (LMS) these locomotives were primarily designed for medium freight work but found widespread use on secondary passenger services.  The nickname 'Muck Duck' came from the unconventional (almost American) appearance of high running plate with a gap to the cylinders.
One of a hundred-and sixty-two built, no.43047 was outshopped from Horwich Works 2nd November 1949 to Bristol Barrow Road (22A) thence Saltley (22A) 13th June 1953, Wellingborough (15A) 6th June 1962, Heaton Mersey (9F) 11th January 1964 and finally Workington 11th June 1966 from where it was withdrawn on 30th December 1967 and scrapped at Arnott Young (Carmyle, Glasgow) on 28th February 1968.  Only one of these locomotives survived into preservation.
<![if !vml]>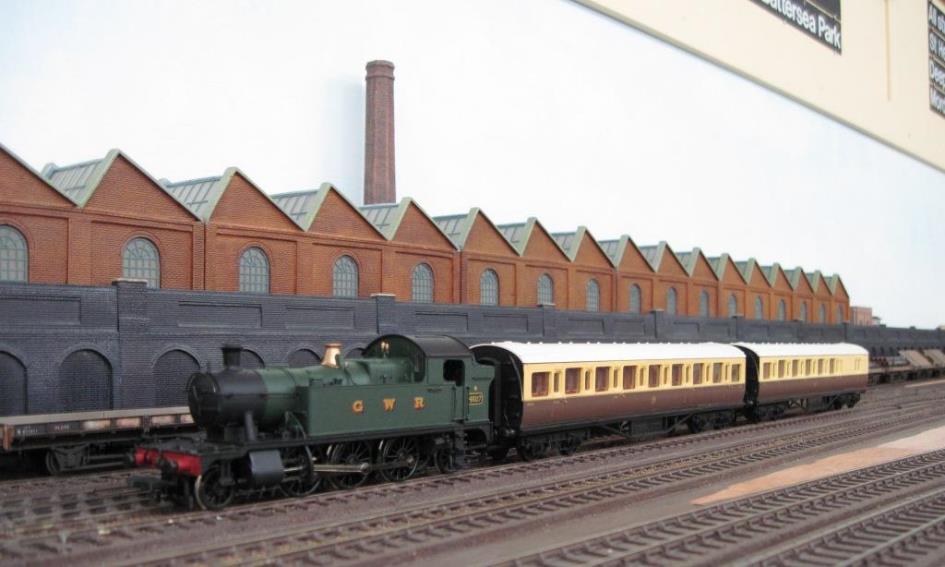 <![endif]>
'Steaming June' 1st June 2019
With a family bereavement just two of us were present, having enjoyed lunch at a supermarket in the north of the adjacent county before driving down to the track room for a quiet and modest running session.  Having become the hottest day of the year the air-conditioned cool of the track room was most welcome.
Dean Goods '2301' class locomotive no.2409 was built at the GWR's Swindon works in 1891 (to lot 87) and of one of 54 (out of the 280 built between 1883 and 1899) that entered into British Railways ownership; it was withdrawn in 1953 from Oswestry Shed (89A) – the first of this class having been withdrawn twenty-five years earlier in 1928.
This Oxford model had been tried on the coal train; which it struggled with at slow speed on the curves.  But then 38-mineral wagons for such a diminutive locomotive really was a big 'ask' and in fairness no.2409 performed relatively well!     
So, it was placed behind a 3-car Bulleid set no.865 which it hauled with ease…
<![if !vml]>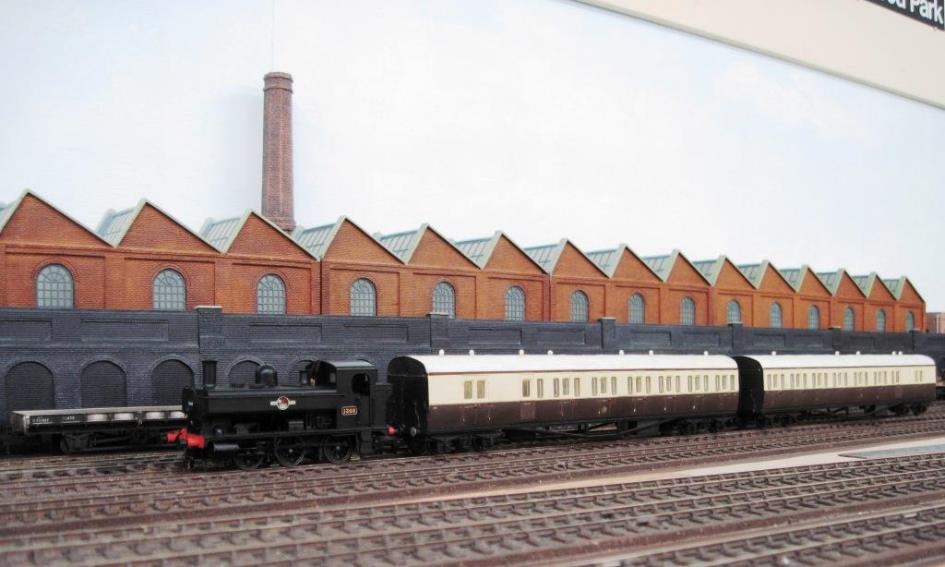 <![endif]>
Having been replaced on passenger set no.865, Bulleid 'Q1' class number 33037 took charge of the 38-wagon coal train; handling it without issue.  The mineral wagons are Mainline models so are slightly oversize.  Only these three are in weathered bauxite; the other thirty-five all having been individually painted /numbered /weathered in freight grey – all have given a load of coal.
Introduced in 1942, the 'Q1' class were powerful 0-6-0 locomotives of 'austerity' design.  No.33037 spent time at Feltham and Stewarts Lane under the Southern Railway thence to Tonbridge (1/50), Stewarts Lane ((7/51), Hither Green (9/52), Brighton (5/54), Hither Green (10/54), Tonbridge (5/59) and finally Eastleigh (5/61) until withdrawal in October 1963.
<![if !vml]>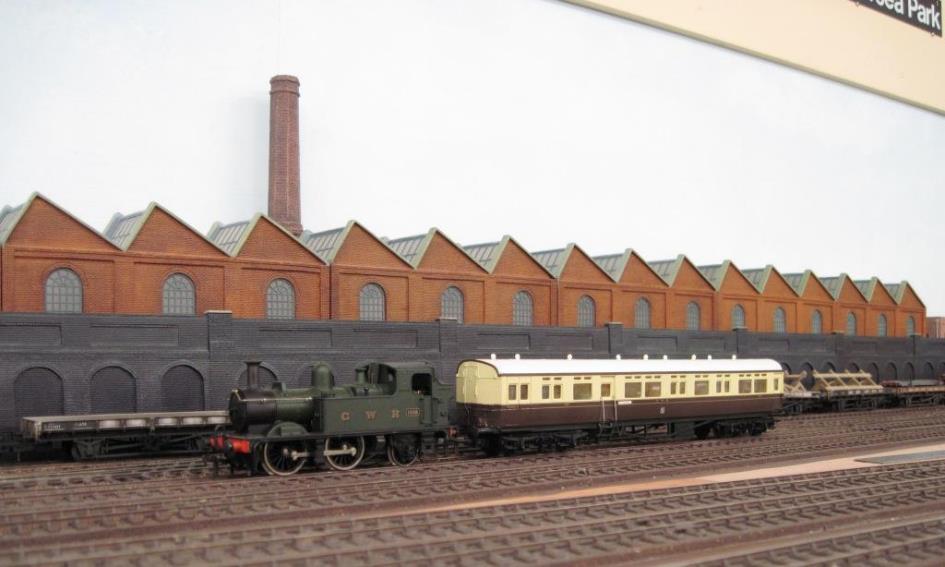 <![endif]>
'Railfreight bonanza' 4th May 2019
Looking out from our beach-front café the sea looked like a mill-pond!   However, there were no hints or clues as to what stock might be running on this day…
Sound-equipped Sulzer locomotive no.24 081 brings the intermodal wagons around from the Down storage loops in readiness for the running session while (at the other end of the track room) numerous boxes were being unpacked.  Produced by Sutton Locomotive Works, these really are superb models.
<![if !vml]>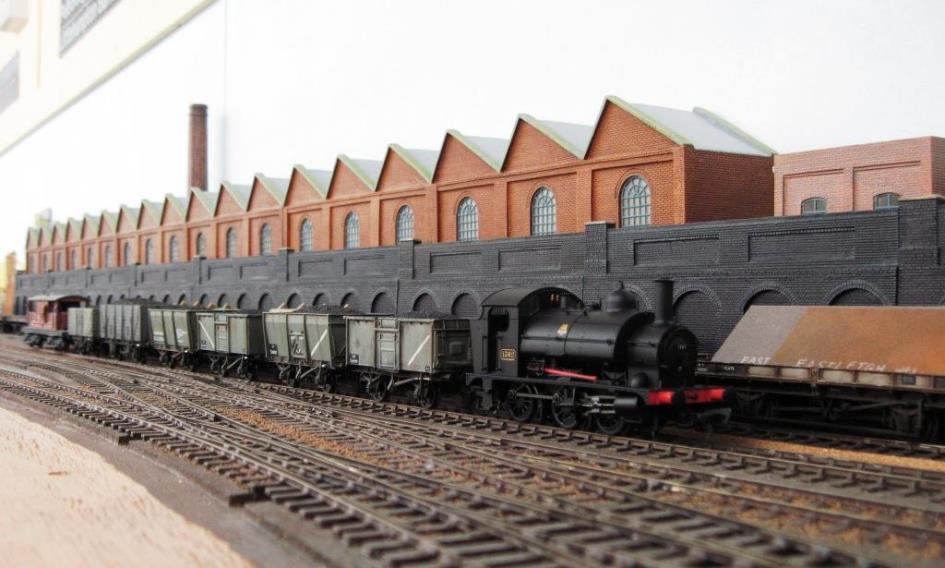 <![endif]>
On the Up Line sound-equipped 2H 'Hastings' unit no.1122 passes an intermodal train on the Down.  A fine model, the 2-car 'Hastings' units were not actually equipped with roof lighting conduit although no.1121 'gained' lighting conduit through having its identity swapped with no.1108 in order to concentrate AWS-fitted units at Eastleigh for through-workings on to the Western Region.
<![if !vml]>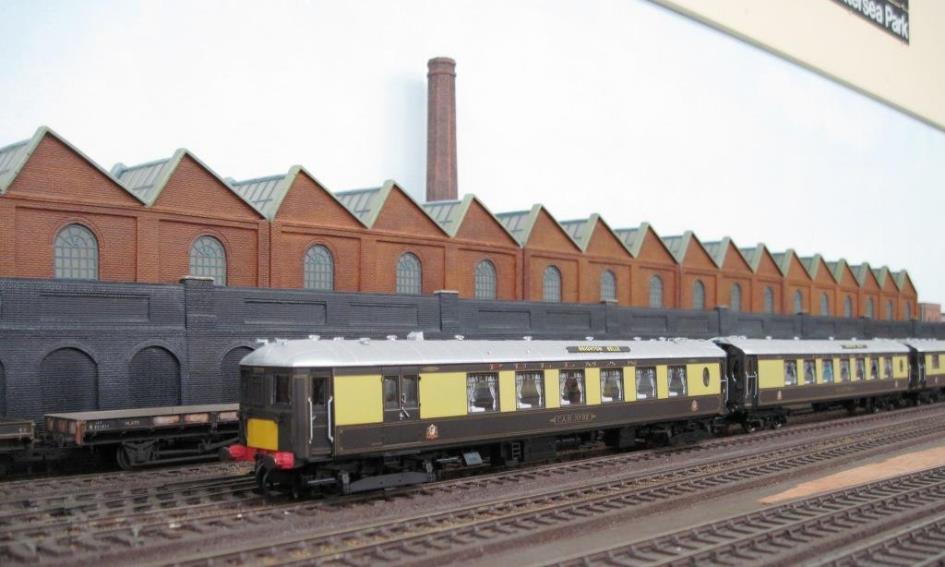 <![endif]>
A number of class 25 locomotives received their TOPS numbers whilst still painted in green livery; in this instance no.25 043 seen here hauling Railfreight bauxite-liveried VDA vans - typical of this period.  What is noticeable is the blue boiler compartment-cover as carried by the original locomotive following replacement of its cover.  This Bachmann model of a class 25/1 dates from late 2015; the original locomotive (25 043) was the last class 25 to be painted into blue livery (May 1976).
<![if !vml]>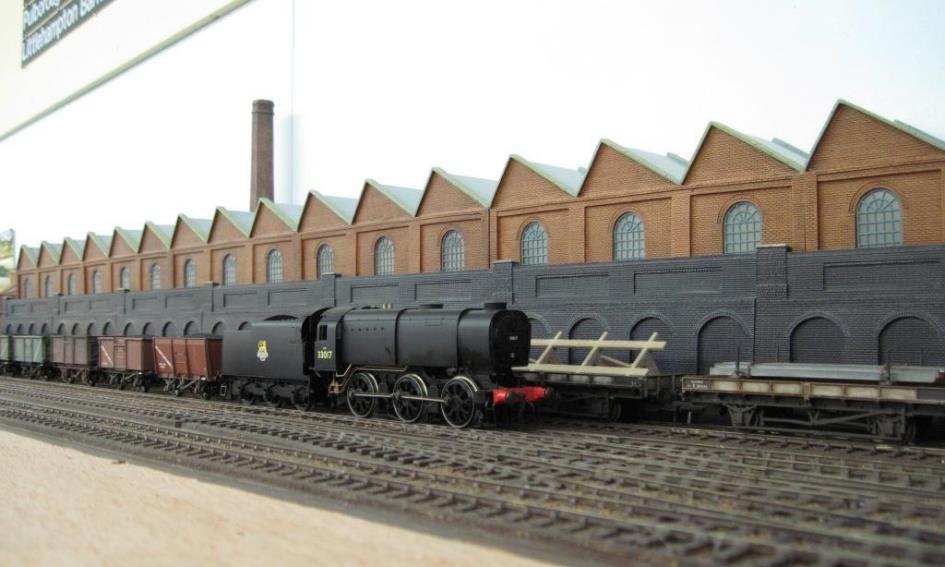 <![endif]>
Restriction'0' 'Slim Jim' Crompton no.33 205 in Railfreight Distribution early livery within which (until 1994) it undertook boat train duties at Dover's link-span.  I do not recall any 33/0 or 33/1 locomotives receiving the Railfreight Distribution red /yellow diamonds; class 33 locomotives in Railfreight Distribution livery were 33203, 33 204, 33 205, 33 206 & 33 211.  No.33 207 also carried Railfreight Construction livery.  Following the 1994-opening of the Channel Tunnel, class 08 /09 shunting locomotives were then used at Dover up until withdrawal of the Dover train ferries in December 1995.
<![if !vml]>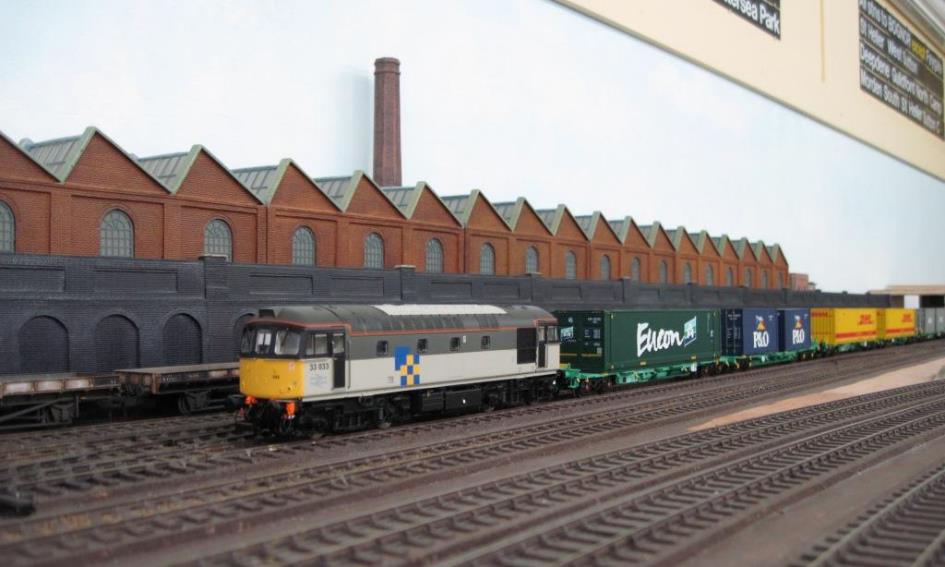 <![endif]>
Newly released model of 37 104 in Railfreight 'General Sector' sector livery with Stratford's Cockney Sparrow.  Into service as no.D6804 in January 1963, under TOPS it was renumbered 37 104 in 1974.  With Railfreight's rebranding in 1987 (and its six sub-sectors) not only was no.37 104 an early recipient of the new triple-grey livery, it was one of only a few locomotives to carry the 'General Sector' logo.  No.37 104 later joined the engineering fleet before withdrawal in 2000 and subsequent scrapping.
<![if !vml]>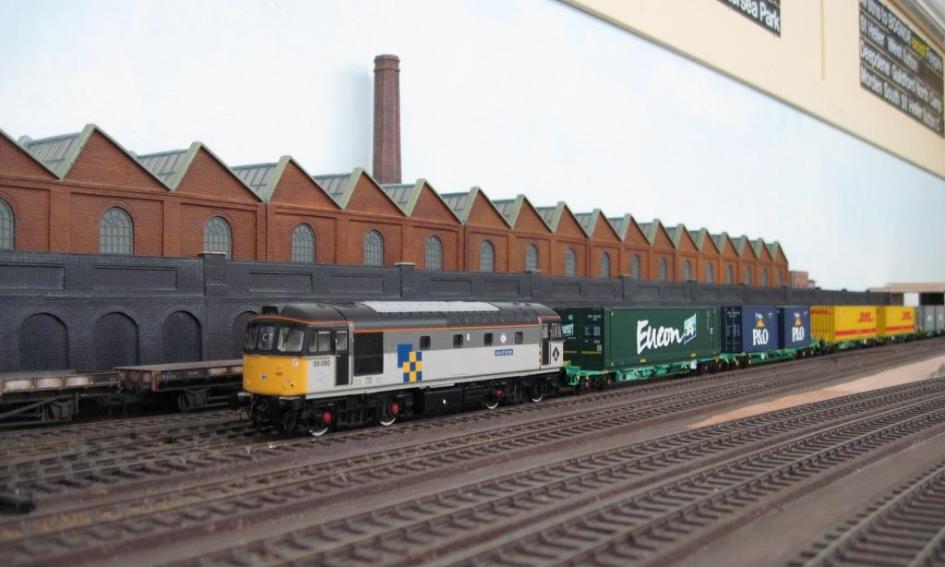 <![endif]>
Into traffic 6th July 1964 as D1884, the locomotive was given TOPS no.47 365 in March 1974.  On 20th September 1986 it was named 'Diamond Jubilee' at ICI Wilton by Bob Hunt (General Manager of ICI Mond Division).  Seen here in Railfreight Distribution early livery on the Up Line as an intermodal train passes on the Down Line, this model was one of a pair released by Rail Express Magazine in 2012; no.47 365 having been scrapped at Booths, Rotherham in 2007.
<![if !vml]>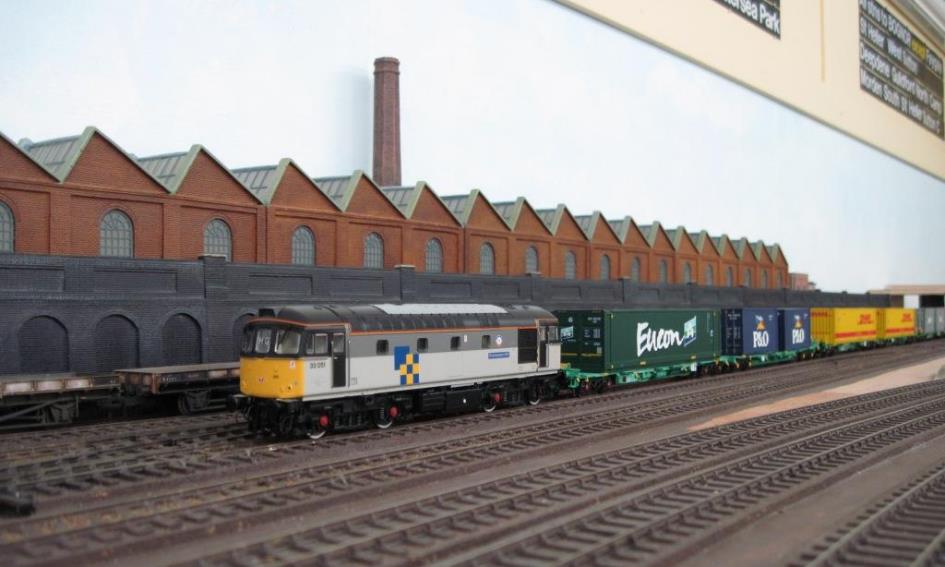 <![endif]>
Into traffic 28th February 1964 as D17174, the locomotive was given no.47 126 in January 1974 thence 47 555 in September 1974.  The original planned name was 'The Spirit of the Commonwealth' but this was considered to be too long, so was shortened to 'The Commonwealth Spirit' receiving this name at St. Pancras station from Sir Peter Parker (Chairman of the British Rail Board) on 9th April 1979.
The nameplates were removed in December 1991, refitted at Tinsley in August 1995 before final removal in January 1999.  Seen here in Railfreight Distribution late livery on the Down Line, this model was the second of a pair released by Rail Express Magazine in 2012; no.47 555 having been scrapped at Wigan in October 1999.
<![if !vml]>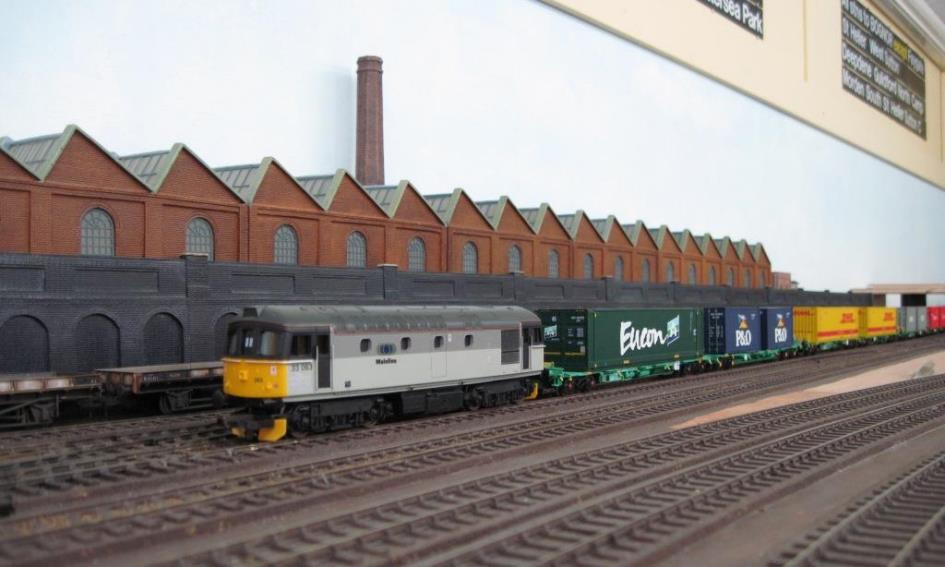 <![endif]>
Wainwright 'H'-tank no.31518 hauling Bachmann Bulleid set no.865 which it hauled with ease.  However, the locomotive struggled when a PMV was added.  No.31518 is correctly displaying overhead electric flashes which were added following the installation of 750v DC overhead at a number of Southern Region yards including Hither Green, Faversham, Tonbridge (etc.) following initial trials at Balcombe.
<![if !vml]>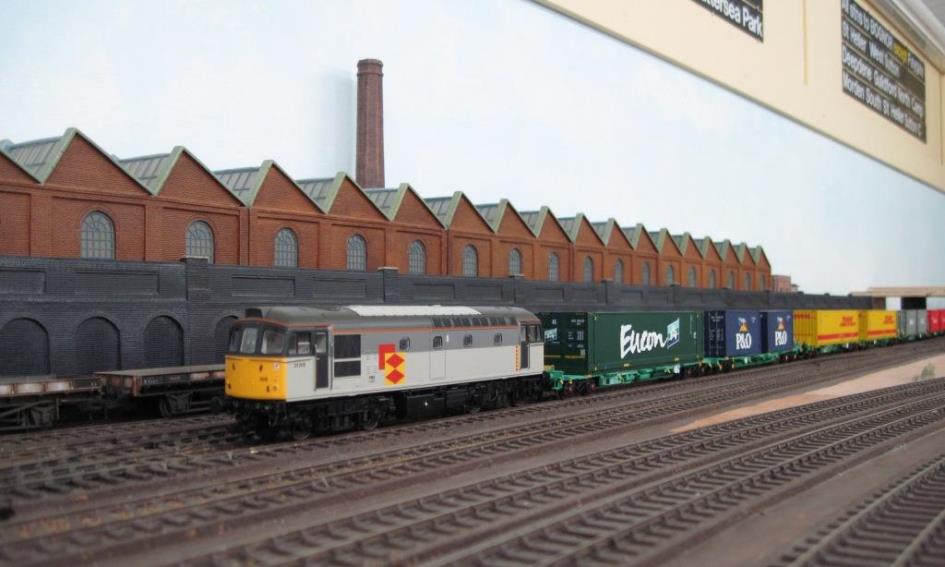 <![endif]>
Finally, an early Dapol Terrier no.2635 took charge of 3-car Bulleid set no.865.  Although slightly noisy by today's standards, this locomotive happily hauled the 3-set around the layout smoothly and without incident.
Introduced by the LB&SCR in June 1878 as no.35, it received the name 'Morden' thence Southern Railway number 635 before receiving no.2635; the first Terrier to be renumbered under the 1931 scheme.  In 1937 no.2635 was allocated to Fratton but for several months in summer of that year it was loaned to the Cordite factory at Holton Heath (for a second successive summer).  During the World War 11, no.2635 worked the Hayling Island branch but also worked at Shell Oil Company's Hamble Depot and Bournemouth shed (due to a shortage of Adams B4 dock-tanks).  Renumbered 32635 by British Railways, initially withdrawn thence reinstated in 1959 it was finally withdrawn in 1963 and scrapped.
<![if !vml]>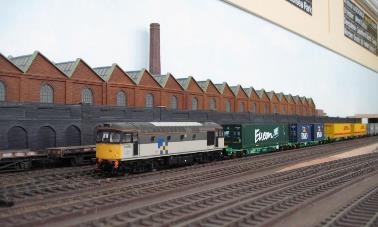 <![endif]>
I hope these will have been of interest!
Kind regards,
Caiptean
All photographs are copyright of 'Caiptean' at BloodandCustard.
<![if !vml]>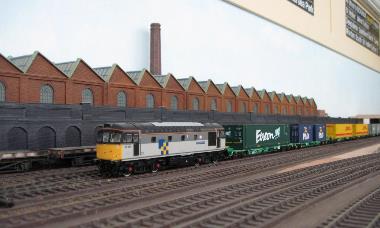 <![endif]>
In memory of Moser
A companion dearly missed
1999-2016
This webpage is kindly provided by www.BloodandCustard.net
ALL PHOTOGRAPHS ARE COPYRIGHT
<![if !vml]>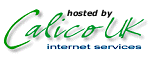 <![endif]>